In Vietnam, one in three children under five is either undernourished or overweight, while worldwide, an alarmingly high number of children are suffering the consequences of poor diets and a food system that is failing them.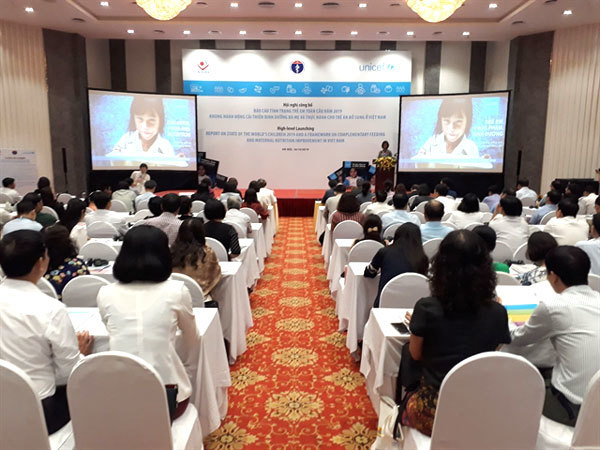 Representatives attend the report launching ceremony in Hanoi. — VNS Photo Thu Trang
UNICEF issued the warning on Wednesday as part of a new global report on children, food and nutrition.
The 'State of the World's Children 2019: Children, food and nutrition' finds that globally at least one in three children under five – or over 200 million – is either undernourished or overweight.
Almost two in three children between six months and two years of age are not given food that supports their rapidly growing bodies and brains. This puts them at risk of poor brain development, weak learning, low immunity, increased infections and, in many cases, death.
The report warns that poor eating and feeding practices start from the earliest days of a child's life. This finding is highlighted by a landscape analysis on complementary feeding and maternal nutrition as part of the Regional Initiative for Sustained Improvements in Nutrition and Growth (RISING) and carried out by the Vietnam National Institute of Nutrition in 2019. The analysis showed that complementary feeding practices and maternal nutrition in Vietnam are largely inadequate and inappropriate, contributing to the burden of malnutrition.
From the very start of life, many children in Vietnam are not getting proper nutrition. Inadequate maternal diets result in underweight and overweight women who are more likely to have low birth weight babies.
Further, inadequate diets during the complementary feeding phase when the first foods are introduced between six months and two years are common in the country.
"While Vietnam has made good progress in reducing its rate of undernutrition in recent decades, chronic malnutrition or stunting remains unacceptably high and there is a risk that rates of overweight will rise," said Rana Flowers, UNICEF Representative in Vietnam.
"The costs of not addressing malnutrition in its all forms including stunting, underweight, wasting, hidden hunger, overweight in children are rising – a better investment is to provide nutrition services through multiple systems including a strengthened food and primary health care system," she added.
To address this growing malnutrition crisis in all its forms, UNICEF recommended empowering families, children and young people to improve nutrition education.
Besides, people should encourage supportive systems – health, water and sanitation, education and social protection – to scale up nutrition results for all children.
Speaking at the report launching ceremony, Deputy Prime Minister Vu Duc Dam said that malnutrition in Vietnamese people and children remained high.
As many as 57 per cent of residents lack vegetables, vitamins and have too much salt and starch in their daily meals.
The unreasonable nutrition led to different diseases in adults, he said.
Emphasising the importance of proper nutrition for people's health, Deputy PM Dam said reducing children's malnutrition was not only the health sector's work, but also the work of the political system as a whole.
Dam asked the Ministry of Health and concerned organisations to urge supportive measures in the provinces with alarming nutrition conditions, for instance, in Central Highlands provinces.
Programmes to improve nutrition for pregnant women and children should be conducted, he said.
VNS