Trần Văn Bần is working hard in the hot sun to repair his house.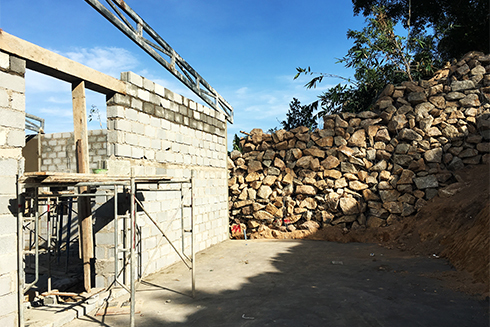 A construction is illegally being built in Phước Đồng Commune, Nha Trang City. Photo baokhanhhoa.vn
He and other families use their free time to make sure their properties are well prepared for heavy rains and storms expected in the coming months.
Nha Trang, a famous tourist city of Khánh Hòa Province, attracts millions of domestic and international visitors each year.
Besides the crowded streets and entertainment areas are temporary houses of thousands of poor people in the city. Most of these houses are illegally built on dangerous cliffs or slopes in Vĩnh Trường Ward, Nha Trang City, Sức khỏe&Đời sống (Health&Life) newspaper reported.
These houses are known as unlicensed houses or "mountain hamlet'. Their perilous location means they are always prone to accidents.
For residents who live there, many go to bed at night not knowing what dangers lay ahead from rains, floods and landslides.
Most of them do not have a stable job and their income is low. So they have to live in those houses and always pray and hope that disasters will not come.
Lê Thị Thiêm, a resident living in a 'mountain hamlet', said her children had to go to the hospital in the past because they slipped and suffered broken bones.
Strong wind and heavy rain can destroy hundreds of houses here and some people were killed by landslides, Thiêm said.
A man who escaped death in an accident a few weeks ago, Nguyễn Tùng, said, most of unlicensed houses were built at night to avoid the local authorities.
"I know I am living in a danger but I don't have any choice," he said.
By the end of 2018, more than a dozen people had died because of landslides and collapsed houses in Phước Đồng Commune.
Local government has asked them to find another place to live adding they would receive some financial support, Nguyễn Thứ, a local resident said.
But with a little help, the poor families have to stay there and repair their damaged houses. They don't have enough money to pay for renting another house.
The newspaper reports that they saw many people had cleared forest land to build homes even though they knew this was forbidden.
Many said they only had a few hundred million đồng and it was not enough to buy a house in the city.
Each month, Lê Văn Toản and some families take their relatives to the city to eat and see vibrant life as a treat.
A few years ago, knowing the dangers many households saved money to buy a new house, aiming for a better life for the children.
But price of social housing for low-income people is too high and they had to return to the old house on the mountain.
Nguyễn Thành Tuấn, a resident from Vĩnh Trường Ward, said social homes for low-income people remained high.
"In order to register to buy a social house, it is necessary to have a household registration book, a good job, a stable income. People living here cannot meet these requirements," he said.
The poor people living in unlicensed house can save tens of millions of đồng each year and they will lose everything if their house unfortunately collapses, according to Tuấn.
Consequences of loose management
Concerning forest land destruction to illegally build houses in Ngọc Sơn Village, Ngọc Hiệp Ward, chairman of the ward's People's Committee Nguyễn Ngọc Chinh, explained that the local government did not grant licences for them to build those houses, adding that local authorities were rushing to check and suspend illegal construction works on the mountain after they received the reports.
Other local chairmen of communes and wards where there are illegally built houses also have the same problems as Chinh, the newspaper said.
According to the report of city People's Committee, there were 1,777 cases of illegal construction in the city in 2017-18.
Most of them are in Phước Đồng Commune, Vĩnh Trường, Vĩnh Hòa, Ngọc Hiệp Wards. Phước Đồng Commune alone has 348 such households.
In the extraordinary meeting of the Khánh Hòa Provincial People's Council in April, the chairman of the provincial People's Committee, Lê Đức Vinh, said loose management in construction, residence, electricity and water had caused major consequences for illegally built houses on mountain, cliffs.
Many officials had been disciplined, he said.
The city leader has required localities to handle violations, strengthen inspection, review and classify families who are living in unlicensed homes to have appropriate support policies for them to move to safe places.
But many people said the most they want was to receive support on vocational training and jobs in industrial parks and factories so that they could have a stable income to ensure daily life. VNS