Prime Minister Nguyen Xuan Phuc has urged central localities to redouble efforts to cope with the prolonged heat wave, drought and saltwater intrusion in the region.
 Central Vietnam grapples with extreme heat, drought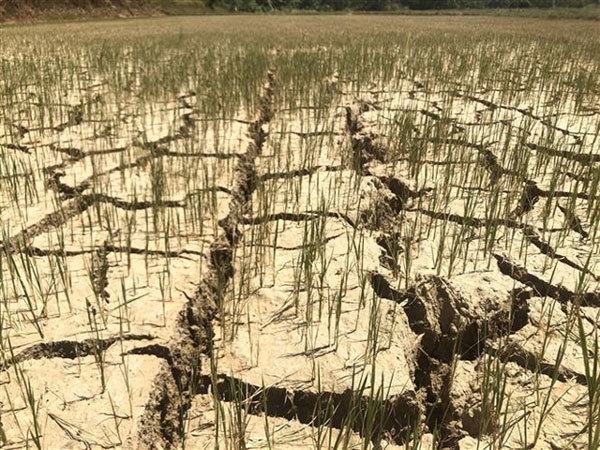 A rice field in Hoai An District in central province of Binh Dinh withers because of drought. — VNA/VNS Photo Nguyen Linh
A dispatch to this effect was sent to the people's committees of Da Nang City and the provinces of Thanh Hoa, Nghe An, Ha Tinh, Quang Binh, Quang Tri, Thua Thien-Hue, Quang Nam, Quang Ngai, Binh Dinh, Phu Yen, Khanh Hoa, Ninh Thuan and Binh Thuan.
The PM also gave the command to the Central Steering Committee for Natural Disaster Prevention and Control, along with the ministries of agriculture, industry, environment, information, social affairs, finance and planning.
Prolonged and widespread heat has been recorded in the central and Central Highlands regions since the beginning of the summer-autumn crop. In particular, extreme heat occurred from June 9 to 12 and from June 20 to 23 with the highest temperatures of between 37 and 40 degrees Celsius.
The region has also witnessed a sharp decline in rainfall since the beginning of the crop compared to the average. Water levels in many irrigation and hydropower reservoirs have dropped to 20-60 per cent of their designed storage capacity. Many small ones have even dried up.
The Viet Nam Meteorological and Hydrological Administration has forecast heat will linger in the central and south central region, especially its western areas, while water flow in rivers will continue declining, particularly in Quang Nam, Binh Dinh and Phu Yen.
It also predicted the possibility of widespread drought and water scarcity, which will seriously affect local residents' lives.
Facing this situation, PM Phuc told ministries, sectors and localities to take urgent measures to deal with it.
In a report sent to the PM on July 23, the Ministry of Agriculture and Rural Development said about 65,500ha of rice and annual crops in the central region will suffer from drought and water scarcity if extreme heat continues until the end of the dry season, which falls in late July in the northern part of the central region and late August in the southern part of this region. About 138,800 local households may also face water shortages.
In the region's northern areas, drought and water scarcity have hit about 21,600ha of rice and other crops, accounting for 4.5 per cent of their total farming area. Meanwhile, 16,340ha in the southern areas have been affected, equivalent to 4.6 per cent of the total.
As a result of saltwater intrusion, water shortage has been reported on 5,800ha of plants and affected nearly 114,000 households in the central region.
VNS