Along with the development of science and technology, the demand for knowledge and skills training for children has been rising, turning education and training into a phenomenon attracting private investors by the droves to Vietnam.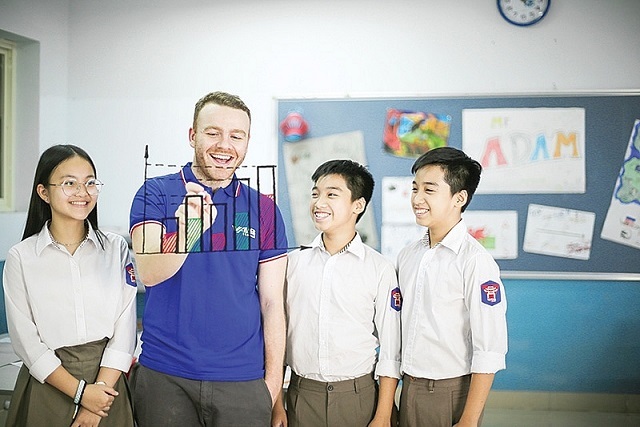 Vietnam puts great value in education and training, setting the high demand for international
Vietnamese families usually spend an average of 47 per cent of their total expenses for their children's education. In contrast with the huge demand, the market is still short of modern education models and courses using renowned international curricula, falling short of parent and student requirements.
Over the past few years, the Vietnamese private education scene has seen the entrance of big names like Vinschool, TH School, VAS Hanoi, Wellspring, Ecokids, and others.
The most highlighted example is Vingroup's Vinschool. After more than five years in operation, Vinschool has become the largest education system in the country, with 27 campuses across mainly Hanoi, Ho Chi Minh City, and Haiphong, enrolling nearly 23,000 students for the 2018-2019 academic year. Vinschool has taken on a pioneer position by reforming education in Vietnam, both in curriculum and philosophy.
Doan Hong Nhung, education quality accreditor at Vietnam National University's School of Law, told VIR that the majority of private schools offer good training because they can afford far larger investments in material facilities than public schools. In addition, they are careful in selecting teachers by educational background and certificates.
However, there are also challenges to introducing new education models like the Cambridge curriculum in Vietnam. Tran Hanh An, founder and CEO of Hoi An International School, told VIR that her education model focuses on holistic, student-centred education that is academically rigorous, while at the same time nurturing individual talent, creativity, as well as cultural and social awareness. The school places emphasis on cross-cultural daily lessons as well as on community activities to encourage foreign students, staff, and teachers to learn and communicate in Vietnamese.
To gain the best results, private schools need to limit the number of students in each class, which reduces investment efficiency as the new, expensive facilities serve only a small number of students at one time.
Promising sector
It has been claimed that education offers long-term sustainable profit with high margins and fewer risks than other investment sectors. This is also the reason why investors keep pouring money into the sector. For instance, Cognita Education Fund purchased International School Ho Chi Minh City and International Primary School Saigon Pearl, while Nord Anglia Education Fund acquired British International School – with a plethora of deals between international funds and language centres.
Indeed, pouring capital into education is a stable investment, without the risk of irrecoverable debts because students have to pay tuition before enrolment.
Forbes Vietnam recounted that 43 universities and colleges have announced financial statements so far, with 77 per cent reporting far higher revenue than expenditures. Of this, the profit margin of foreign language institutions was the highest in the sector, ranging from 20 to 50 per cent.
Reputable foreign investors in education have been entering Vietnam, adding more colour and diversity to the palette of teaching models and courses. This is a great opportunity for local businesses to partner up with foreign investors to launch courses that suit the local market.
An education organisation reported that Vietnamese people spend around $3 billion annually to study overseas, a figure rising rapidly year by year. According to the Ministry of Education and Training (MoET), 98,000 students received education abroad in the 2010-2011 period, increasing to 130,000 in 2016. Australia gains an average of $17 billion a year from overseas students, with a part coming from Vietnamese families.
Investment in private education keeps booming
Thanks to the huge demand for private institutions, investments in private education are forecast to continue. Kieu Xuan Hung, chairman of University of Economic and Finance's Management Board, said that investments in private universities will continue as they educate less than 15 per cent of students in the country, while the Vietnamese government's target is to raise the rate to 30 per cent.
Therefore, there is still room for private universities.
Troy Griffiths, deputy managing director of Savills Vietnam, said that during 2014-2017 an average of one million agricultural labourers ­transferred to work in the industrial and services sectors each year, showing that urbanisation will maintain its dizzying speed in ­Vietnam. Therefore, education and training has become a priority to improve the skills and productivity of local labourers.
Griffiths also said that 41 per cent of the Vietnamese population is under 24 years old, and the middle class and affluent classes have been growing sharply, meaning the ­number of high-spending customers is on the rise. It is forecast that ­the demand for higher education will stay high, but there are concerns about the supply actually falling short of the demand both in quality and ­quantity.
Aiming to meet the demand, the MoET in 2018 issued Decree No.86/2018/ND-CP easing the conditions to establish and operate international schools. Accordingly, ­international schools are permitted to have up to 50 per cent of their ­students being Vietnamese ­nationals, instead of the previous 10-20 per cent. Nguyen Kim Dung, legal director for Apollo and British University Vietnam, said that the decree has contribute to raising the number of local students in international schools, meeting the widespread ­demand among local parents. VIR