The installation of greenhouses for vegetable and flower farming in Da Lat City should be strictly regulated to reduce their impact on the environment and landscapes, experts have said.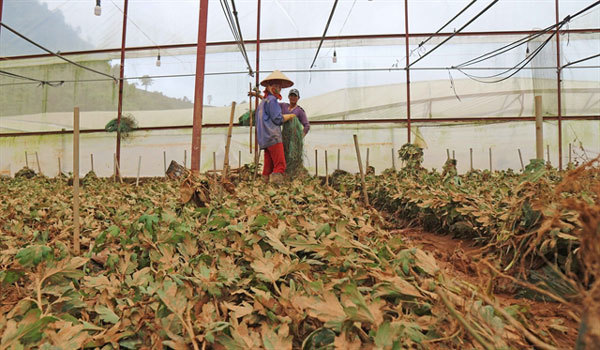 A greenhouse was damaged by flooding in Lam Dong Province's Lac Duong District in August. — VNA/VNS Photo Nguyen Dung
The Tay Nguyen (Central Highlands) province of Lam Dong has 4,500ha of greenhouses, including more than 2,800ha in Da Lat.
Greenhouses have been popular in Da Lat since the late 1990s.
There are no official guidelines for the management of greenhouse construction or licensing and so there is no legal foundation for the management of greenhouses, according to the city People's Committee.
Speaking at a recent seminar held in Da Lat, Tran Xuan Hien, director of the province's Centre for Hydro-Meteorology Forecasting, claimed the unplanned setting up of greenhouses has impacted the climate and the lives of local people.
The occurrence of floods in concentrated agricultural areas and the downstream areas of the Cam Ly and Phan Dinh Phung springs in recent years has been due to greenhouses covering a large area, which cannot absorb and drain water, leaving rainwater to flow directly into springs and causing the flooding, he said.
Tran Van Viet, deputy chairman of the Lam Dong Architects Association, said in the past, greenhouses in the city were built in agricultural areas and valleys but have now been expanded to near springs and on the top of hills.
There is now a high density of them, he said.
To address the problems caused by greenhouses, it is necessary to have careful management and education of farmers on the effects greenhouses cause, he said.
There is a need for legal regulations and sanctions to curb the unplanned installation of greenhouses in urban areas, he said.
"Measure of collecting an environmental fee on greenhouses should be studied and policies should be issued."
Besides being a famous tourism city, Da Lat also has 10,000ha of farmlands and favourable weather and soil conditions for developing high-tech agriculture.
Greenhouses help improve the yields and quality of vegetables and flowers and reduce labour and production costs since they can control the impacts of weather.
The city's farmlands yielded an average income of VND350 million (US$15,100) per hectare last year.
Greenhouses allow the use of technology in agriculture but it is not necessary to grow every plant in a greenhouse, Pham S, deputy chairman of the province People's Committee, said.
The province encourages the cultivation of high-value crops outside greenhouses, he said.
Da Lat should have sanctions to prevent the unplanned installation of greenhouses to balance economic benefits and environmental protection, he said.
The city would petition provincial authorities to issue regulations to ensure that greenhouses do not exceed 70-80 per cent of a farm, according to the city's People's Committee.

The rapid development of greenhouses for vegetable and flower cultivation in the last two decades has had a negative effect on the environment in the central resort city of Da Lat.

To reduce the population pressure on Da Lat, Lam Dong Province authorities should not expand it but build satellite areas around it, an architect has said.
VNS