Provinces have begun organizing trips to carry their citizens from HCMC back to their hometowns.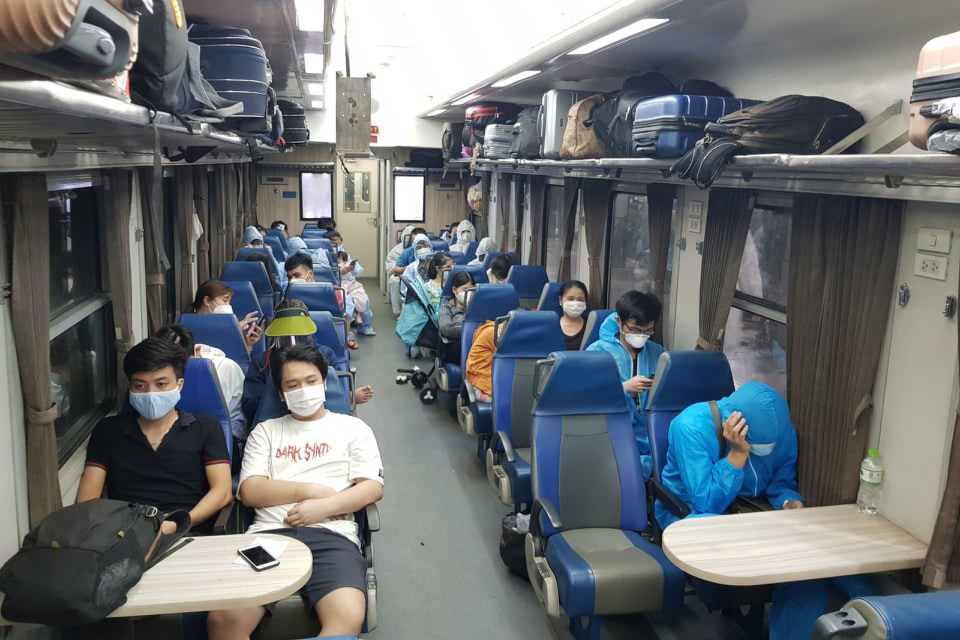 On July 24, the first specialized train (SE14) brought 700 passengers from HCMC to Ha Tinh
Following Ha Tinh, Quang Tri has signed a contract with the Vietnam Railways Corporation to carry people from HCMC to provinces on specialized trains.
Quang Tri plans to carry 400 people on July 28. The list of passengers will be provided by the local authorities through the associations of compatriots in HCMC.
The province has asked HCMC authorities to instruct relevant agencies to create favorable conditions for the people named in the lists to move from their residences to Sai Gon Station. The plans will strictly observe the regulations on Covid-19 prevention and control.
On July 24, the first specialized train (SE14) brought 700 passengers from HCMC to Ha Tinh as per the request of the province. The train is part of a plan to carry 3,000 Ha Tinh citizens to hometown to help ease pressure on HCMC and southern provinces at this difficult time.
In addition to these localities, Vietnam Railways is working with local authorities and councils of compatriots of Nghe An and Quang Nam on organizing specific trains to carry people back to the provinces safely.
In addition to organizing specific trains, Vietnam Railways carries medical workers from provinces to HCMC to help the city fight the pandemic, free of charge. It picks up workers at the local stations where trains pass by.
Thua Thien-Hue province, instead of using trains to carry people as initially planned, has decided to use air transportation.
Nguyen Xuan Son, Director of the Thua Thien-Hue Department of Information and Communications, said that after reaching a consensus with HCMC leaders, the province will receive 240 citizens from HCMC to fly on July 26 in the first phase.

The first phase includes older people, people with diseases who want to return to hometown for treatment, pregnant women and women with children, and Covid-19-vulnerable people.
To date, more than 10,000 people have registered to return.
Thua Thien-Hue had planned to organize a train for 300 workers in the first phase but it decided to use flights for a number of reasons.
The association of compatriots plans to carry people from residential areas to Tan Son Nhat Airport on July 26. The passengers will have to be tested for nCoV before boarding airplanes.
The Thua Thien-Hue Steering Committee on Covid-19 Prevention and Control will pick up citizens at Phu Bai Airport and then take them to quarantine zones to minimize risks for local residents. 
Vu Diep

Many HCM City companies that had to close down after some workers were found to be infected with COVID-19 have got approval to reopen after their on-site lodging facilities for workers and epidemic prevention plans were verified.
Starting Monday, residents of HCM City will no longer be allowed to go outside and all activities except medical emergencies or COVID-19 coordination efforts, will be banned from 6pm until 6am the following day.