HCM City was one of five large cities in the country asked to pilot public bicycle sharing in its inner areas under the Prime Minister's requirement in 2014, but the pilot programme has failed to meet demand.
Students want to set up bicycle-sharing service in HCM City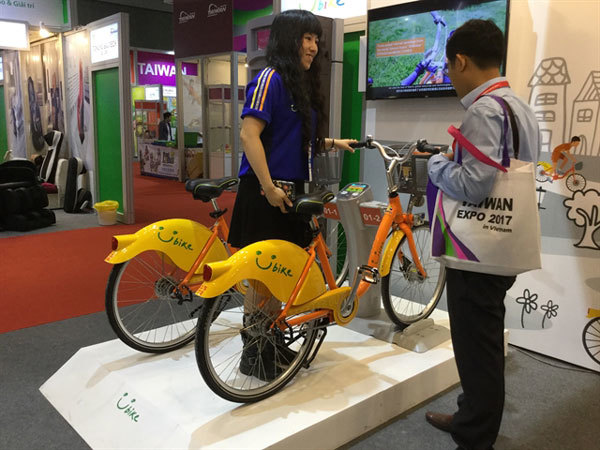 A public bicycle sharing system is introduced at Taiwan Expo 2017 held in HCM City. VNS/Photo Gia Loc
Instead of inner city areas, the campus of Quang Trung Software City and the urban area of Viet Nam National University-HCM City were chosen for the pilot programme.
However, the number of bicycles used in the system has decreased and cannot meet the demand of employees and students there.
Nguyen Thien Thong, managing director of the Easy Move Project, which developed bicycle sharing in the urban area of Viet Nam National University-HCM City, said that a large fund is needed for the bike sharing system.
"The city's weather with both a lot of sun and rain damages bicycles and locks, leading to high demand for repair and maintenance," Thong told attendees at a forum organised last Friday by the HCM City Institute for Development Studies in co-operation with Centre of Regional and Urban Studies.
The cost to maintain the system is high and users lack awareness about regulations. For example, they do not park bicycles in regulated areas. More effective management is needed, he said.
"It's impossible to develop the public bicycle sharing system in the inner areas. The system is suited to a closed campus such as in industrial parks or the Phu My Hung urban area," Thong said.
Truong Quang Nhat, student at the HCM City University of Transport, said that his team conducted research which showed that the bike sharing system could be linked to public transport.
Public transport, including buses, water buses and a subway system now under construction, exist in the city, but most of their stations are located in districts 1 and 3.
"A public bicycle sharing system will help people travel short-distance trips between these stations," Nhat said.
Most people who were interviewed for the students' research said they would be willing to ride public bikes to the stations.
Dinh Dang Hai of HealthBridge Viet Nam said that convenient, safe roads or paths should be developed for bikes to protect them from other vehicles.
Facilities for parking bicycles at public transport stations should also be built, Hai said.
Many people, however, are reluctant to ride bikes because of narrow roads and incomplete transport infrastructure, according to the city's Department of Planning and Architecture.
Bicyclists often have to travel in the same lanes as cars and trucks.
Dr Nguyen Minh Hoa of HCM City University of Social Sciences and Humanities said that a "culture of using bikes" could be developed if students and state workers began using bikes first.
"It's important to ride bikes regularly and make it a habit," Hoa added.
VNS