Le Hoang Hai, deputy general director of Viet Nam Education Publishing House, talks with Thanh Niên (Young People) newspaper about the printing and distribution plan for textbooks ahead of the 2019-2020 academic year.
Textbook shortage plagues major cities
Is publishing monopoly is to blame for shortage of textbooks?
Textbook publishing house reap big profits each school year
Vietnamese waste $45,000 a year on textbooks used for only one year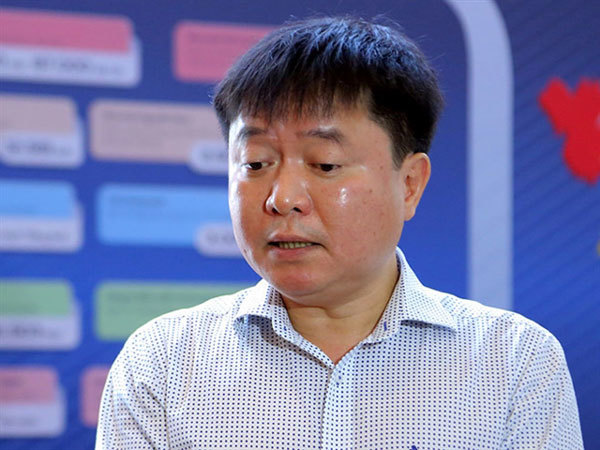 Le Hoang Hai, deputy general director of Viet Nam Education Publishing House.
In 2018, there was a shortage of textbooks in some localities after authorities lowered print orders to avoid collecting too much inventory ahead of the implementation of the new first grade curriculum next year. What has the publishing house done to avoid shortages?
In order to overcome the textbook shortage, we have established a hotline to receive feedback from parents and students. This year is the final year of the current educational programme for first graders, so the publishing house has decided to provide local distributors with 1 per cent of the inventory of textbooks [for first graders] to ensure the shortage does not occur like last year.

With this solution in place, do you have confidence there will be no shortage this year?
We have adopted solutions to ensure sufficient supply of textbooks before the new academic year begins and they should be sufficient to prevent a shortage. However, it is necessary to have the co-operation of distribution partners, agents and book stores. The Ministry of Education and Training has also sent a request to the publishing house regarding this issue.

In the 2019-2020 school year, the price of textbook for students in first to 12th grade will increase [from VND6,500 to VND25,000 for one set], so there will be two different prices for textbooks with the same content – one price for those printed in 2018 and another for those from 2019. How will the pricing change affect distribution?
The publishing house has foreseen this problem. In addition to publicising textbook prices on mass media, we have asked local distributors to post the price list at stores that supply books and equipment for schools. Our hotline will also be open to receive complaints about textbook price.
What is the proportion of textbooks sold at the old prices?
The proportion of textbooks printed from the previous year and sold at the old price varies at each educational level, but the number is not large, accounting for about 3.5 per cent of available textbooks. It is unfortunate that the different prices are causing difficulties for parents, but it was unavoidable as we had to increase prices of new books but did not want to retroactively change the price of last year's textbooks.
How can parents avoid buying illegal copies of textbooks or unnecessary reference books?
We have recommended parents and students buy educational books including text books from authorised bookstores of the Viet Nam Education Publishing House and companies permitted to supply books and equipment for schools.
In order to stop parents and students from buying unnecessary reference books, we have printed on the cover the list of textbooks that are required for that grade. Parents and students should only choose reference books that are essential and avoid buying a lot of books for their children on the advice of other people. It would be a big waste because those books might never be used by their children.
VNS