Functional forces of the central province of Quang Nam have managed to contain three fires in Hiep Duc District's planted forests.
Vietnam to use smart apps, drones for forest protection
Binh Thuan faces high risk of forest fire
Quang Nam: resorts 'swallow' forests, 'block' sea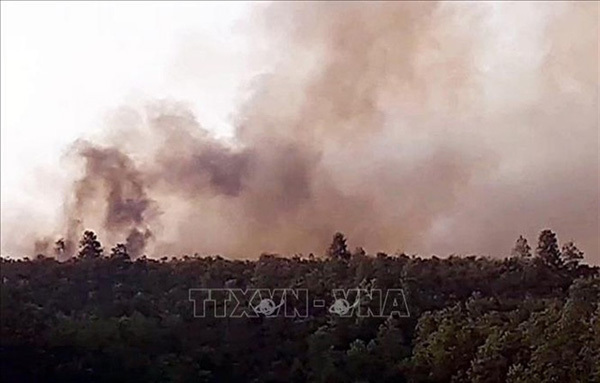 By 2pm Thursday, the fire in Khe Cai forest had been brought under control by firefighters and other forces, according to local authorities. — VNA/VNS Photo
The district authorities reported that by around 4am Thursday, two forest fires in Que Tho Commune were mostly under control. Initial reports showed that about 100ha of forest were damaged.
By 2pm Wednesday, the fire in Khe Cai forest was under control, according to local authorities.
Hiep Duc District mobilised all human forces including police, military and rangers to extinguish the forest fires within one day.
At noon Wednesday, two fires broke out at the three-year-old acacia planted forest in My Thanh Village in Que Tho Commune.
Local functional forces quickly deployed methods to extinguish the fires with green branches, while runways were created to prevent the spread of the fire.
Despite this, the fire spread to Khe Cai planted forest in the neighboring commune of Hiep Thuan.
At noon Thursday, functional forces were able to approach the fire in Khe Cai.
However, Nguyen Van Tien, commander of the Hiep Duc District Military Command, said that firefighters faced problems because of the mountainous and hilly terrain. The fire had broken out strongly and quickly spread over seven hectares.
The local forces created a runway area in the forest to prevent the spread of the fire.
The cause was initially said to be due to the carelessness of yet unidentified forest growers.
Because of the prolonged hot weather, the Quang Nam Provincial Forest Protection Department has issued warnings to localities about the danger level of forest fires.
The province prohibits people from starting fires in forests and nearby forests.
VNS