The northern province of Quang Ninh suspended entry of all Chinese tourists and self-drive tours from China from January 30 amid the widening threat from a new strain of coronavirus called nCoV.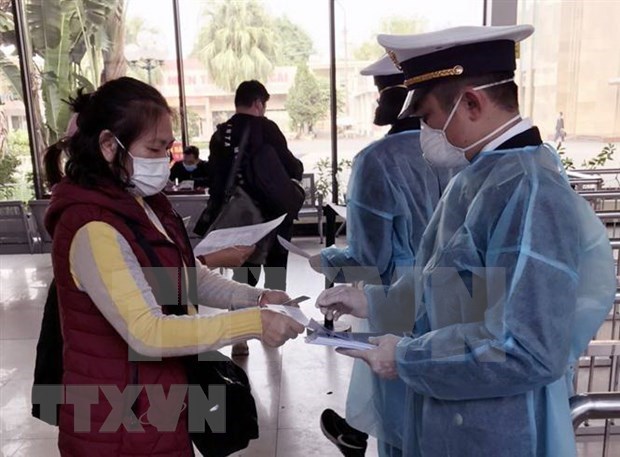 Quarantine checks undergone at Mong Cai border gate.
Quang Ninh has banned all travel over cross-border trails and closed auxiliary border gates. The province will also impose strict penalties for the illegal transport of animals and unlawful border crossings.
Secretary of the provincial Party Committee Nguyen Xuan Ky said the province has stopped sending workers to China while Chinese workers at local industrial parks and border economic zones must undergo medical checks.
Border localities, particularly Mong Cai city, must keep a close watch on the situation, he said.
Ky also assigned the Health Department to prepare facilities and personnel for any emergency cases.
The department will also work with border localities and the provincial Military Command to complete quarantine areas and construct a field hospital if necessary, he said. Local police and border guards have been instructed to strictly monitor the entry and exit of people over the border with China.
Quang Ninh, home to Ha Long Bay, shares a border with China and has become increasingly popular among Chinese tourists./.
Da Nang allocates 20 billion VND for heath sector to cope with nCoV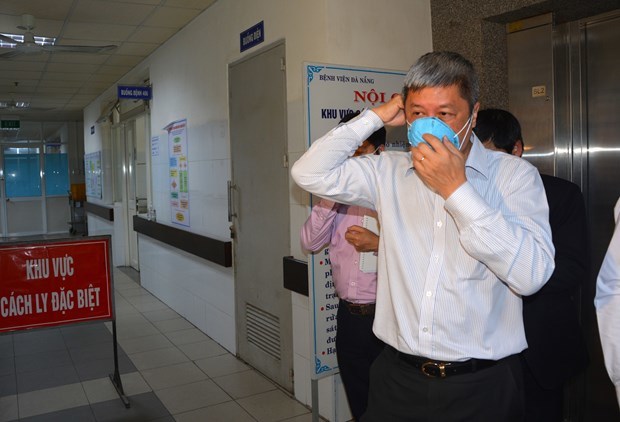 Deputy Minister of Health Nguyen Truong Son visits a special isolation area at Da Nang Hospital.
The central city of Da Nang has provided nearly 20 billion VND (860,000 USD) for the health sector to buy medical equipment to prevent and control the novel coronavirus (nCoV).
While inspecting Da Nang International Airport and a special isolation area at Da Nang Hospital on January 30, Deputy Minister of Health Nguyen Truong Son appreciated the city's efforts.
All passengers are being screened at the airport, while tourists from China are undergoing extra checks. So far, 30 suspected cases have been isolated for further monitoring.
He asked the municipal Department of Health to intensify inspections and information dissemination at industrial parks with foreign workers.
The official said since nCoV broke out in China's Wuhan city last month, the Government and health sector has been focusing on directing agencies to carry out preventive measures, especially at border gates.
The health ministry has set up 45 mobile fast-response teams and hotlines connecting 20 hospitals nationwide.
As of 15:20 on January 30, three people had tested positive for nCoV, raising the total cases in the country to five.
The country has quarantined 32 suspected cases, awaiting test results, while 65 people have tested negative. Forty-three people are also in quarantine due to contact with suspected nCoV patients.
Foreign tourists to Lao Cai drop due to nCoV
The number of international tourists visiting the northern border province of Lao Cai has dropped significantly due to the novel coronavirus (nCoV).
According to the provincial Department of Culture, Sports and Tourism, the locality welcomed about 98,000 visitors during the seven-day Lunar New Year (Tet) holiday, a drop of 8.4 percent year-on-year.
Of the total, 11,000 were foreigners, down 52.4 percent compared to the same period last year. The number of Chinese holidaymakers stood at only 2,000, down more than 80 percent year-on-year.
The provincial Party Committee, People's Council and Department of Culture, Sports and Tourism have been coordinating closely with departments and agencies to prevent the spread of the disease.
The locality has also been monitoring the exit and entry of foreigners and Vietnamese nationals at international border gates.
Meanwhile, the Mekong Delta province of Ca Mau lured nearly 148,000 tourists during the holiday, including 745 foreigners, who mainly flocked to Dat Mui, Khai Long and Hon Da Bac tourism areas, and the site dedicated to President Ho Chi Minh.
Director of the provincial Department of Culture, Sports and Tourism Tran Hieu Hung said the locality will continue to optimise its potential and advantages to develop tourism sustainably in 2020./.