More than 2,100 women in the central province of Quang Tri have teamed up to collect scrap metal and plastic to raise funds for disadvantaged women and children.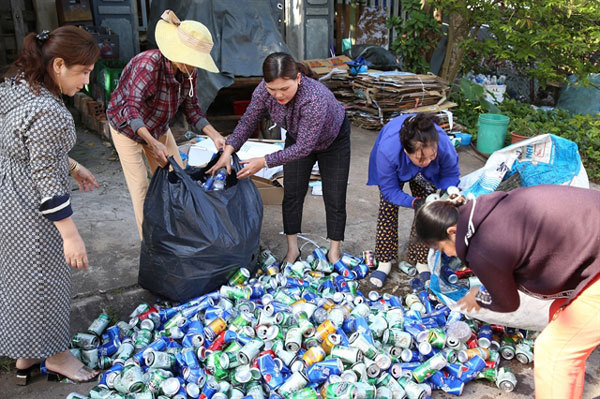 Women in Quang Tri Province collect scraps from local households and sell them to raise funds for people living in disadvantaged circumstances. — VNA/VNS Photo Thanh Thuy
At the end of each month, members of the Women's Union in Dong Luong Ward, Dong Ha City collect scrap from each and every family and bring it to the community house.
Every three months, they sell the scrap and buy presents for disadvantaged people.
Since the movement was launched in 2017, the campaign has spread to many areas in the province.
Now there are 34 clubs with 2,147 members.
Classifying the haul, Nguyen Thi Dung, 55, told Vietnam News Agency that some of the scrap came from weddings and parties, while the rest was retrieved from public bins.
These clubs have also come up with other ways to raise funds.
"We offer to clean up after weddings for VND200,000 (US$8.7). Scrap such as bottles and cans left after the events are collected and sold.
"On average, we can sell the scrap collected from each wedding for VND350,000 ($15). The club also calls for help from local food stalls and restaurants to donate recyclable waste," said Duong Thi Thuy Kieu, head of the Women's Union in Residential Area No 1.
"We don't raise much but it makes a big difference to disadvantaged women," she said.
Each year, the club buys two health insurance cards worth more than VND1.6 million ($69) and more than 20 gifts worth between VND200,000 and VND300,000 for sick women, children and the elderly.
Vo Thi Nhan, 64, suffers from heart disease, but receives gifts from the union every year.
"This is the motivation my children and I need to sort through waste and collect scrap to protect the environment and help disadvantaged people," she said.
The clubs run by women in Quang Tri deposit the money they make from selling scrap in banks and present savings books for disadvantaged people.
Over the past three years, they have also built toilets, served hundreds of rice and porridge meals for free at hospitals, and given presents to excellent students hailing from poor families.
Nguyen Thi Que Phuong, vice chairwoman of Quang Tri Province's Women's Union, said the clubs plan to expand their work and build 900 toilets for poor women as well as assist 900 female members living in disadvantaged circumstances. — VNS

You want to build a school? Of course you need to think about money, and a lot of it! One young man has successfully built schools for poor ethnic minorities in remote areas raising funds from a very simple source.

She may be 87 years old, but Bui Thi Thinh is showing no signs of slowing down.