The Viet Nam Railway Corporation (VNR) said it needs VND2.5 trillion (US$108 million) to build fences, frontage roads, and eliminate illegal level crossings by 2025, reported online newspaper vietnamplus.vn.
Urgent measures to bring rail accidents under control: Deputy PM
Most railway accidents caused by road users
Railway officers suspended following train accidents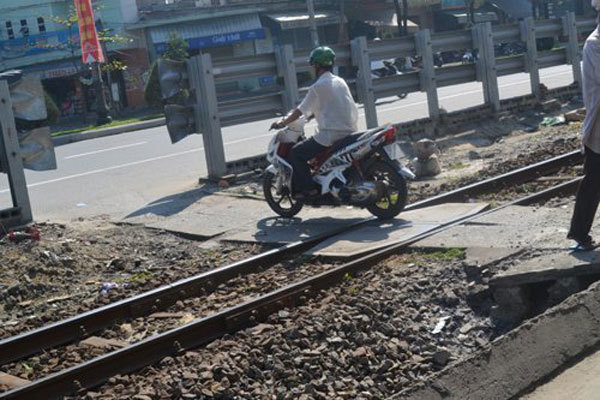 Illegal crossings caused 70 per cent of railway accidents. Photo: VNN
The VNR has submitted the Ministry of Transport a proposal to use the State Budget's mid-term fund for 2020-2025.
The building of frontage roads and fences was a key factor to ensure safety of railway traffic, said the corporation.
In Vietnam, 70 per cent of all rail-related accidents were caused by illegal trespassing across the tracks.
The VNR plans to build 168km of frontage roads and fences with estimated investment of VND672 billion (US$29 million) in 2021-2022 and 469km of roads and fences costing VND1.8 trillion (US$80.8 million) in 2023-2035.
Since 2012, the corporation has carried out projects on building fences and frontage roads and eliminating unplanned and illegal level crossings nationwide.
However, due to a lack of funds, some projects had to be suspended, including 27.9km of frontage roads and 17.3km of fences of urgent work project – phase 2, and 321km of fences of the project under Decision 1856 – stage 3.
In Decision 994/QĐ-TTg dated June 19, 2014, the Prime Minister pledged to allocate VND26 trillion (US$1.13 billion) for upgrading railways and eliminating unplanned and illegal crossings.
But so far, the railway section had received about VND200 billion (US$8.6 million).
According to VNR's statistics, there are 5,719 crossings around the country, of which 4,058 are illegal crossings, making up more than 70 per cent of total crossings of all kinds.
There are also 14,000 spots violating the railroad safety corridor.
"Seventy per cent of rail-related accidents were caused by unplanned and illegal level crossings," said Vu Anh Minh, the VNR's president of the board of members.
"This is an issue for ensuring safety of railway traffic," Minh said.
Lacking funds from State Budget, the railway sector had to adjust its investment plans to ensure safety, he said.
Actually, the total money for building frontage roads and fences and closing all illegal level crossings by 2025 would be VND7.3 trillion (US$314 million), said Minh.
The money, however, was too high to mobilise and disburse, he said.
Previously, the Prime Minister had approved a railway strategy by 2030 with total investment of VND110 trillion (US$4.73 billion) including upgrading the current tracks and ensuring corridor safety.
"The strategy was approved in 2014 but the funds are yet to be allocated," said Minh.
"At present, the National Assembly has just allocated VND7 trillion (US$301 million) for four urgent projects in 2016-2020," he said.
The VNR official hoped that the railway sector would be given VND15-20 trillion (US$646.5 -862 million) by the year 2030.
VNS