While Vietnam Railway wants to keep its stations in city centres, many localities plan to push them to outlying areas, pleading pressure on inner-city traffic infrastructure.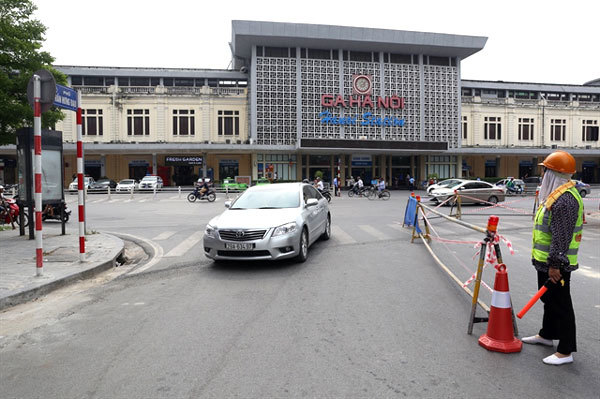 Hanoi Railway Station. Experts recommend keeping stations in city centres to serve as interchanges for public transport. — VNA/VNS Photo Huy Hung
In 2017, Hanoi Police put forward a proposal to move the historic Hanoi Railway Station, which was built in 1902, to the other side of the Hong (Red) River or Thuong Tin District, saying with 10km of railway running through the capital and many level crossings, the station was putting an enormous burden on the city's traffic infrastructure and posing the threat of accidents.
The railway sector fiercely opposed the plan.
Before Hanoi, the Government had given permission to Da Nang to move its railway station out of the city centre under a public-private partnership model. The project, however, has been delayed due to funding difficulties.
Da Nang recently relaunched the project under the form of a build-transfer (BT) model with total investment of VND12 trillion (US$516.5 million).
The central provinces of Binh Dinh and Khanh Hoa have also shown an interest in relocating their main railway stations in Quy Nhon and Nha Trang.
The Ministry of Transport has approved the Hanoi-based Tuan Dung Group to conduct a pre-feasibility study in Nha Trang in the form of a BT. In return, the corporation will receive an area of land where the current station is located once it moves.
"Golden locations" where railway stations are located in big cities are targets of many large private developers. Therefore, relocating stations is not simply a question of easing traffic congestion but also of a conflict of interest among authorities, citizens and enterprises.
There are rising concerns about how these areas will be used when stations are relocated. If new apartments or high-rise offices are built, the initial purpose of reducing traffic jams will not be accomplished.
The historic, cultural and architectural values of stations also need to be considered before they are relocated.
Tokyo, Paris, Frankfurt and Beijing all have railway stations in downtown areas, serving huge numbers of passengers each day.
Vu Anh Minh, director of the Viet Nam Railway Company, said the railway had two preeminent characteristics – safety and convenience in terms of favourable locations. Big cities usually develop overpasses or tunnels to address traffic congestion caused by inner-city railways instead of relocating stations to save expenses.
"Localities are not interested in railways because they do not generate fast money. However, they must ensure the benefits of citizens, the country and the railway sector in developing projects," he said.
To utilise stations' "golden locations", Minh said they planned to upgrade existing facilities for use as offices.
Architect Ngo Viet Nam Son said central stations such as Hanoi and Sai Gon could become interchange hubs connecting North-South routes with metro lines. Relocating these stations would mean missing a chance to develop public transport.
"To reduce congestion, the railway sector could reduce freight carried to and from central stations and focus on transporting passengers instead," he said. — VNS

Hanoi is considering setting up priority lanes for buses while banning cars on some roads.

The People's Committee of Hanoi City is mapping out measures to develop public transport, including a plan to put electric buses into service during the 2021-2025 period.