Hail, thunderstorms and strong winds that hit several northern mountainous provinces over the past three days have caused damage to agricultural production, according to the National Steering Committee for Natural Calamity Prevention.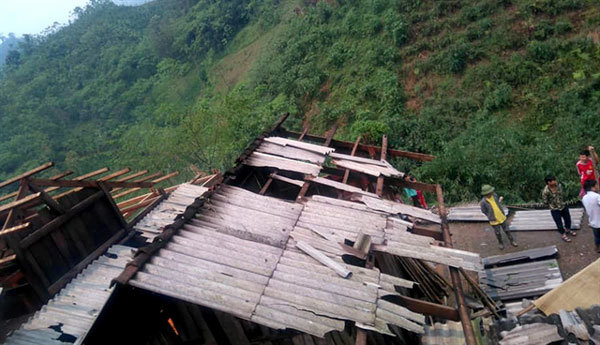 A roof damaged by heavy rain and strong winds in Na Hang District, Tuyen Quang Province. — VNA/VNS
More than 1,200 roofs in Dinh Hoa, Phu Luong and Dai Tu districts of Thai Nguyen Province were blown away or damaged due to the storms which swept through the locality on Sunday night and early Monday morning.
Hundreds of hectares of farm produce were destroyed.
The total damage to property and farm produce in Thai Nguyen Province was estimated to reach more than VND31 billion (US$1.3 million).
More than 170 roofs were blown away in areas along the Ky Cung River and in Trang Dinh District of Lang Son Province on Monday and Tuesday.
In Tan Tien and Hung Viet communes of Trang Dinh District, nine houses were severely damaged. No human casualties were reported.
In Tuyen Quang Province, thunderstorms and winds destroyed three houses.
Hail lasting for five minutes on Monday in Lao Cai Province caused damage to farm produce in the affected area.
The steering boards for natural disaster prevention and control, and search and rescue of these provinces have mobilised forces to help local people recover from the destruction and stablise their lives.
VNS