L.V.M, 32, of HCM City's District 12, was electrocuted while working on a roof. On June 5 he came in contact with a high-voltage cable and fell from a height of five metres, and was rushed to the Military Hospital 175.
Take advantage of storms' 'benefits', but prepare for the worst: scientists
Lightning kills one and injures six in Hue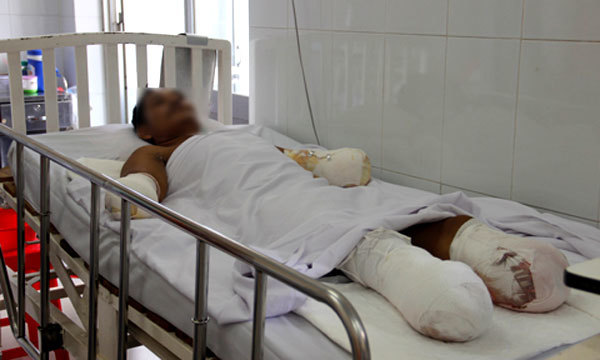 A patient suffering from electrical burns is being treated at Cho Ray Hospital in HCM City. Photo suckhoedoisong.vn
He said he was unaware the roof might have been hazardous. It was wet when he was working due to heavy rain the previous night.
He had 40 per cent burns with severe injuries on the face, back, neck, and arms.
N.A.K, 41, a mason in Binh Duong Province, suffered from life-threatening injuries after getting an electrical shock while working at a height.
He was brought to Cho Ray Hospital in HCM City but his arms and legs had to be amputated after seven surgeries to remove damaged tissues, Ngo Duc Hiep, head of the hospital's department of burns and plastic surgery, said.
Most high-voltage electrical shocks result in serious tissue damage and often fatal injuries, Hiep said.
Current passing through the body could cause muscle, nerve and tissue destruction and damage associated with electrical injuries could cause many organs to stop functioning, he added.
Cho Ray Hospital receives 300-400 patients with electrical burns every year, including some 100 patients who require amputations.
Most of the cases are due to high-voltage electric shocks at the workplace, with engineers, electricians and overhead line workers facing the biggest threats.
Phan Van Truong, a doctor at the Military Hospital 175's Department of Burns, said electrical burns were caused by contact with electrical sources such as household current and lightning.

"The first thing to do is to turn off the power source to stop the flow of electricity into the victim," he said.
"Then cardiopulmonary resuscitation should be begun if the injured person shows no signs of breathing."
During the rainy season, rainfall could cause electrical hazards.
Truong advised the public that they should always be cautious to avoid electricity-related accidents.
VNS