Legal procedures to repatriate the bodies of 39 Vietnamese victims are being completed, with the victims' relatives expected to receive the bodies as soon as possible, reported VietnamPlus, citing a Vietnamese official.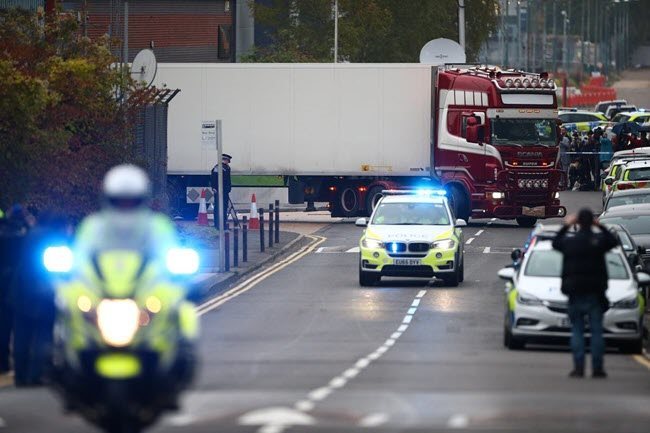 Police move the truck container where bodies were discovered, in Grays, Essex, Britain on October 23, 2019. The repatriation of the victims' bodies will be completed as soon as possible - PHOTO: REUTERS
The governments of Vietnam and the United Kingdom have yet to finalize a specific date for returning the bodies to Vietnam. The two countries are working hard to facilitate the repatriation effort, Bui Thanh Son, Vietnam's Deputy Minister of Foreign Affairs, told the local media on the sidelines of the National Assembly's sitting on November 25.
Legal procedures to return the bodies to Vietnam must be approved by the United Kingdom's authorities, he added.
Also, in response to an inquiry on the number of flights needed to return the bodies, the deputy minister said the exact number will be confirmed after the two sides reach an agreement.
Most local families of the truck victims chose to receive their relatives' bodies, while few others preferred to receive their ashes. Vietnam will work closely on the issue with the localities where the victims were resident, stated the official.
Earlier, Son told the media on November 21 that the Vietnamese Government would advance funds to ensure the bodies are brought home soon.
Provinces and cities where the victims were resident will take steps to receive the bodies or ashes at airports and transport them to their families. SGT

Vietnam has not received any information on the UK's financial support for the return of the bodies/ashes of 39 Vietnamese nationals found dead in a refrigerated lorry last month in Essex, the UK, said Foreign Ministry spokesperson Le Thi Thu Hang.

Vietnam and the United Kingdom were "in the process of completing" legal and technical procedures to repatriate the bodies of 39 Vietnamese migrants who died near London late last month,