Many residents near Cau Giay Park have opposed a decision to allow construction of a large car park.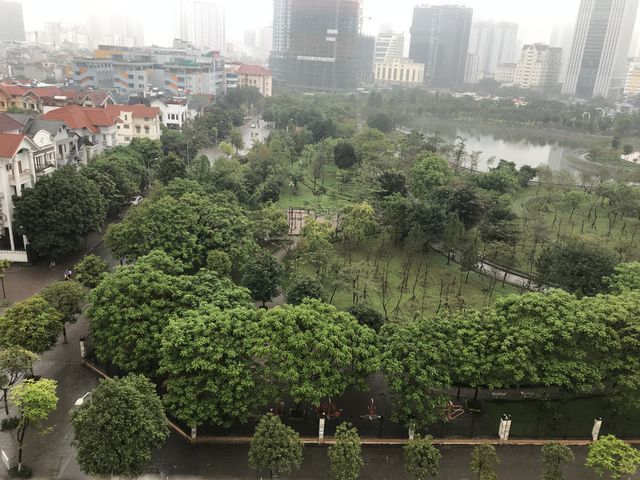 Cau Giay Park
On May 8, the authorities in Dich Vong Ward, Cau Giay District, announced that they had carried out a survey in which 60% of the residents agreed to construction of a 14,500 square metre parking lot at Cau Giay Park, accounting for 15% of the park's land.
Le Minh Tri, chairman of the Fatherland Front of Dich Vong Ward, said they collected opinions from 1,954 people. He claimed 60% of the people agreed to the project.
Nguyen Thi Loc, a resident on the opposite of Cau Giay Park, said there were a lot of empty plots of land in the area, and some were already planned as parking lots. However, the authorities hadn't used those plots and instead had taken an easy option to use Cau Giay Park.
"The park is the lung of the city, to clean the air that we breathe which is more important than the parking lot. We think because Cau Giay Park is located in a prime location, the investor wants to build a parking lot with the main aim is at commercial services," she said.
Le Chi Phuc said the survey was not carried out fairly. "Our building apartment has 341 households but they only issued the forms to 200 households. Only after we complained that they gave the forms to the rest of us," he said.
He went on to say that a park was a favourite place for the locals nearby and other visitors during the weekends. He hoped to meet the district and ward leaders to discuss the problem.
Meanwhile, Nguyen The Binh, head of the People's Inspection Board, claimed the survey was transparent. Binh agreed that there are many people with many reasons to oppose the project.
Nguyen Huy Hieu, party secretary of Dich Vong Ward, said "I know there is a lack of consensus, especially in regards to those in new urban areas. I know that the trust in the authorities is also not very high and many are wary of the impacts of the project. The local authorities must work together to help the residents understand more about the project." Dtinews