The Revised Law on Tertiary Education (aka Law No.34), came into effect on July 1, 2019. However, until now, there is no guiding decree to materialize the law. Being
 confused by many vague terms in the law, several universities are now in a serious dilemma.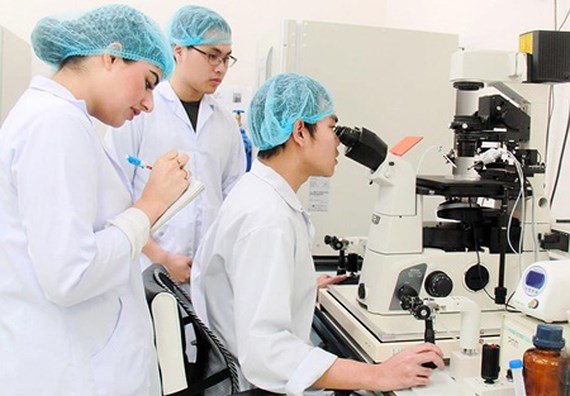 Research students are carrying out their studies in the International University – member of the Vietnam National University HCMC
The draft for the guiding decree to carry out Law No.34 possesses various unclear terms such as 'direct management body and 'authorized management body' vs. the old term 'governing body' in other laws like the 2012 Law on Tertiary Education, the 2013 Law on Vocational Education, or the Central Resolution No.19.
A principal of a university in Ho Chi Minh City (HCMC) commented that it seems this revised law does not want to use the term 'governing body' anymore.
That could be interpreted as the 'authorized management body' is not the 'governing body'. What is more, the term 'direct management body' does not specifically aim at any organization.
Other content in Article 4 of Law No.34 is also quite vague. For instance, it regulates that an educational institute must have over 15,000 formal students to be considered a university and allowed to establish affiliated schools. Yet it does not clearly state whether these students are full-time ones, part-time learners, or research students.
One more example of this ambiguity is the 'consensus of investors who own a total of 75 percent of the capital in a private university. However, at the moment, this sector include both non-profit universities and those for profit.
According to Dr. Tran The Hoang, President of the Board of the University of Economics HCMC, it is critical to have a detailed guiding decree to implement Law No.34 as well as the decree for universities which pilot complete autonomy.
Sharing the same concern, Prof. Le Vinh Danh, Principal of Ton Duc Thang University, stated that the core of Law No.34 is autonomy. Yet it is necessary to provide a transparent implementation method, he added.
To make it worse, the Ministry of Education and Training was not consistent when responding to inquiries of educational organizations.
Explaining the content of Section 12 in Article 1 of Law No.34 to the Association of Vietnam Universities and Colleges, it said that the term or duration of a principal in a university is decided by its board in the board's current term. That means in the five-year term, the board can assign or re-assign one person or more who are eligible for the title, in accordance with the current law.
Yet when answering Ton Duc Thang University, this Ministry stated that the university board is able to decide a principal's term as well as assigning time, and the term quantity of a board president is regulated in the university operation rules.
In a state university, any decision on working term, standards, procedures, and the announcement of new members or president of a board or a new principal must strictly follow Law No.34 as well as related regulations issued by the Party and authorized bodies.
Associate Prof. Dr. Phan Thanh Binh, Chairman of the National Assembly Committee for Culture, Education, Youth, Adolescents and Children, his organization is working with the Ministry of Education and Training to work out the final draft for the guiding decree to implement Law No.34 before submitting to the central government.
Particularly, certain content like autonomy, human resources, curriculum autonomy, needs more consideration.
However, there is no fixed date for the submission of the draft to the government. SGGP
Thanh Tam