Ngo Van Dau, a 56-year-old farmer living in Mekong Delta An Giang Province, often neglects his fields all day because he is too busy carrying the poor to hospitals.
Quang Tri's barefoot "bank owner" helps farmers escape poverty
Crickets help farmer hop out of poverty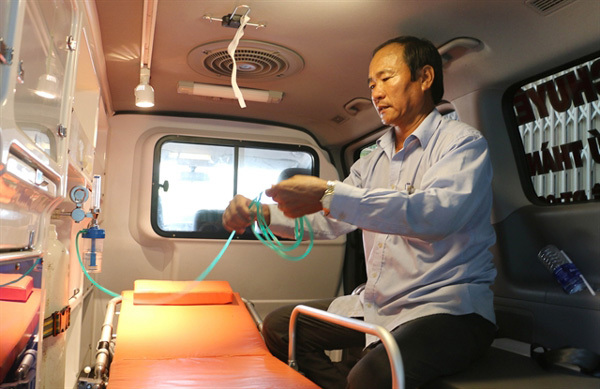 Ngo Van Dau checks the emergency aid devices on the ambulance which he bought to carry local poor patients to hospital. VNA/VNS Photo Cong Mao
For nearly 10 years, he has been an indispensable part of Phu Thanh Commune, Phu Tan District, famous for a work-hard mentality and devoting his time and money to his charity pursuits.
In 2009, Dau, and his two elder brothers purchased an ambulance, worth VND540 million (US$23,200), to transport poor patients free of charge to hospitals in the province, online newspaper vietnamplus.vn reported.
The move marked the first ambulance service in Phu Thanh Commune to help his neighbours go to hospital as soon as possible.
Dau said he was born in a poor family and had to do different jobs to earn a living, so he understands the suffering of the poor.
After getting married and creating a better life for himself, he decided to help the poor, initially offering them rice and money.
He saw many local people were sick and in some cases died from a severe disease due to the lack of transportation to hospital, so he decided to buy the ambulance.
In 2017, his family bought another worth VND700 million ($30,000) to carry patients in need.
He said everything he has done is to set an example for his children, so they might do good works and help those around them.
He also raises fish to get more income.
After years of farming tra fish, he found that it could not bring a stable income for charity.
In 2011, he discussed with his family to buy 4ha of farmland for lease and purchased another 5ha in 2017 to get money for charity.
He has used about VND300 million ($13,000) collected from land lease per year for his own family's charity fund.
"In more than 20 years of charity work, the happiest thing for me is the support of my wife and children and the love of locals. It is the motivation for me to continue my charity activities," Dau said.
Dau has also supported poor patients' families and contributed money to build bridges, upgrade roads and other infrastructure in his hometown.
He is also known as a successful farmer. He earns VND2 billion (over $86,000) from farming annually and employs 18 people.
Tran Thi Nguyet, Dau's wife, said he is passionate about charity.
"He spends most of his time doing charity work without thinking about himself. I have to remind him to keep him healthy," she said.
Recently, he donated more than 1,000 square metres of land and VND500 million to upgrade the local cemetery.
He is a special person not only for what he has done, but also for his heart of gold, said Duong Bao Loc, chairman of Phu Thanh People's Committee.
Dau has received Certificates of Merit from the Prime Minister and the Viet Nam Farmers' Association.
VNS