The salvage of the sunken container vessel VietSun Integrity is continuing in Long Tau River in HCMC's Can Gio, with cargo traffic on the HCMC-Vung Tau waterway expected to return to normal between November 25 and December 12.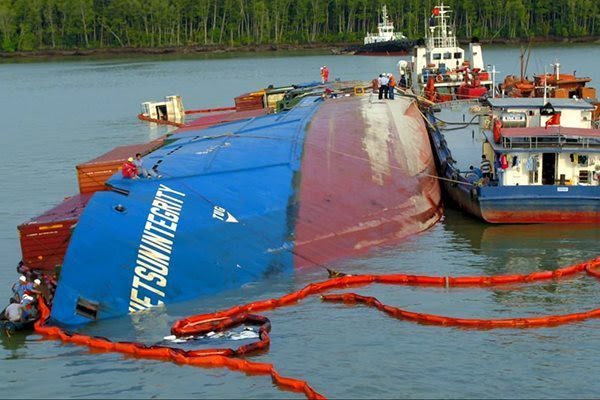 The Vietsun Integrity vessel sinks in the Long Tau River. Cargo transport on the HCMC-Vung Tau waterway is expected to return to normal, at the earliest, by November 25, 2019
Deputy Minister of Transport Nguyen Van Cong, on November 15, arrived at the site to review salvage activities being carried out on the sunken ship.
As reported by a salvage team, they had brought two ships with cranes, machines, and rescue personnel to the scene to retrieve containers from the sunken ship, lifting them onto barges. After the removal of the containers, workers will relocate the submerged vessel to a nearby waterway to allow for the return of river traffic by cargo ships.
The relocation of the wreck is scheduled for completion between November 25 and December 12. During the salvage operation, some 180 containers will be removed to reduce the weight of the ship before its relocation, said a representative of the salvage team.
While at the scene, Deputy Minister Cong told the salvage team to ensure that relocation work is conducted with concerns for safety, while avoiding possible risks that could again disrupt the waterways.
He added that the ministry has developed plans to dredge this key waterway, to ensure the passage of boats and vessels. However, while awaiting the dredging work, the relocation of the sunken ship is being carried out to help the State budget save tens of billions in dredging expenses.
Earlier, the Vietnamese-flagged container vessel Vietsun Integrity sank in the Long Tau River on October 18, while it was carrying 293 containers from HCMC to Haiphong City. The sinking created a major impact on cargo transport and increased logistics costs. SGT
Le Anh
Last month, the Mekong River Commission announced the commencement of Prior Consultation for Luang Prabang, the fifth lower Mekong mainstream dam to undergo the process.

'Monotonous' is the word used to described tourism in the Mekong Delta. The tourism products in the region's provinces are nearly the same with no originality.