The HCM City People's Committee has instructed the city's tourism sector and authorities of its five suburban districts to develop agri-tourism and other tourism services.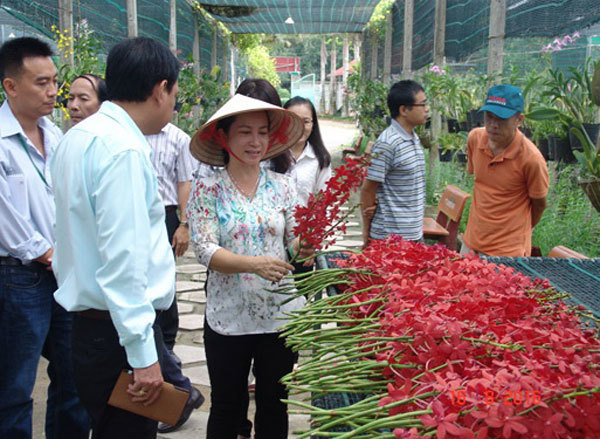 The director of the Huyền Thoại Orchid Cooperative, Dang Le Thi Thanh Huyen, presents orchids from her garden at Huyền Thoại Orchid Cooperative in An Nhon Tay Commune in HCM City's Cu Chi District. VNS File Photo
The district authorities of Hoc Mon, Cu Chi, Binh Chanh, Nha Be and Can Gio were told to give priority to infrastructure development and support facilities to attract more visitors, extend their stays, and increase their spending.
The city authorities also asked the tourism sector to improve the quality of tourism staff for agri-tourism, which is linked with the city's goal to create jobs in rural areas.
Agencies will provide support to build cultural–tourist villages in the districts, and banks have been told to help farming households in rural areas access bank loans for tourist services.
Despite the city's efforts to develop agri-tourism, many farms that were once open for agri-tourism have stopped offering services.
A garden at Huyền Thoại Orchid Cooperative in Cu Chi District's An Nhon Tay Commune, for instance, recently suspended its tours and related services after guests had damaged the orchids. With an entrance ticket of VND20,000, guests were provided only with drinking water.
The cooperative director, Dang Le Thi Thanh Huyen, was quoted by Sài Gòn Gỉai Phóng newspaper as saying it had invested in accommodations and other facilities as requested by the city's departments of Tourism and Agriculture and Rural Development.
Despite these problems, a HCM City-based travel firm said that agri-tourism had been becoming popular in many localities, such as Lam Dong Province, and has been added to tours of Cu Chi tunnels.
According to the city's Tourism Department, besides organising trips to examine agricultural production models in recent years, the department has held workshops for experts and garden owners to exchange opinions, offer training for farmers, seek comments from many parties, and has cooperated with the Agricultural Hi-tech Park (AHTP) to promote agri-tourism.
However, according to the AHTP, models at the park are more suited for study purposes, while visitors prefer to have real experiences or eco-tourism services.
In addition, travel firms want food services, which normally require a large investment. They also want high-quality services, but are only willing to pay a low tourist entrance fee.
The tourism department conceded that agri-tourism had encountered problems and that connections between travel firms, garden owners and craft villages had not met initial expectations.
VNS
RELATED NEWS
Vietnam's agritourism aims to tap massive potential
HCM City seeks solutions to promote agriculture tourism