The Russian Embassy held a ceremony to commemorate the "Immortal Regiment" of Russia at the Imperial Citadel of Thang Long on May 8 on the occasion of the 74th anniversary of the Great Patriotic War in Russia (May 9).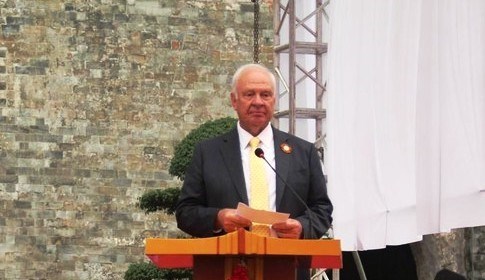 Russian Ambassador to Vietnam K.V. Vnukov speaks at the event
The event was attended by Russian Ambassador to Vietnam K.V. Vnukov, Russian diplomats and citizens who are residing and working and in Vietnam, and representatives of the Vietnam Veterans Association (VVA).
In his opening speech, Vnukov said this is the third time an event of this kind has been held in Vietnam, adding that it affirmed that generations today still remember and are grateful for the glorious feat by heroes of the former Soviet Union (now Russian Federation) and Vietnam.
Talking about the close relations between the two nations during the wartime, Colonel Nguyen Khanh Duy from the VVA shared that the success of the October Revolution in 1917 opened up "the revolutionary path" of Vietnam.
The victory of the Soviet Union in the Great Patriotic War in 1945 created an objective premise for the success of Vietnam's August Revolution in the same year, he added.
The Vietnamese people appreciated the Soviet Union's support for Vietnam in the war for national independence, and during the country's national reconstruction following the war, Duy said.–VNA