Teachers at schools in HCM City, especially kindergartens, have co-operated with health officials to clean and disinfect toys and the environment to ensure hygiene when a new academic year begins on September 5.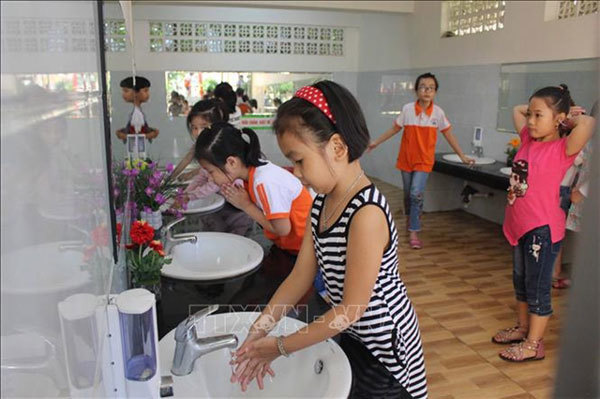 Students at a school in Vinh Phuc Province wash their hands. — VNA/VNS.Photo Nguyen Thao
The clean-up is a part of prevention efforts against dengue fever and contagious diseases such as hand, foot, and mouth disease and flu, which are prevalent in the city.
Health experts warn that this time of the year marks the change from summer to autumn, which is conducive for the spread of diseases.
Schools have a large number of students, and if they do not carry out preventive measures or maintain hygiene, diseases could spread easily, they said.
Students often eat foods of dubious origin sold in front of schools, which pose a high risk of digestive disorders and food poisoning.
The city Department of Education and Training has instructed schools to sign agreements with local preventive medicine centres for disease prevention measures.
They should strengthen communication to students and their parents about the preventive measures, it said.
All schools should report to local health officials about students with infectious diseases for them to carry out surveillance and preventive measures against their spread, it said.
Schools should tell parents of students with symptoms of infectious diseases to keep them at home to avoid transmission, it said.
Bui Thi Diem Thu, the department's deputy director, said school managers should provide adequate soap and other items for disinfection at schools.
Schools situated near lakes, ponds and canals should periodically use sprays to kill mosquitoes and other insects, she said.
They also should keep clean and ensure water does not stagnate in containers, she warned.
Besides disease prevention, school authorities should also sign contracts with health facilities to organise periodic health checks for teachers and students.
At the beginning of the school year students should be checked for nutrition levels and disorders related to the eyes and spine.
Children less than two years old should have their physical health checked every month.
Kids aged two to six should be examined once a quarter and at least two times a year for their body mass index.
According to the city Preventive Medicine Centre, there were 31,787 case of dengue in the last seven months.
VNS