Schools in HCM City are making preparations to welcome students back after two weeks off due to the outbreak of novel coronavirus (COVID-19).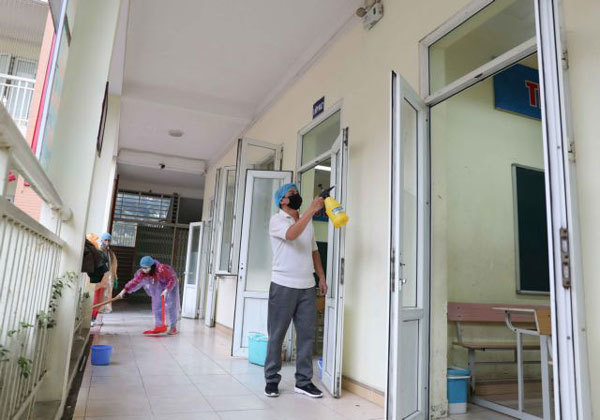 Sterilising Mai Dong Secondary School in Hanoi. Schools nationwide have been sterilised to prevent further spread of COVID-19. — VNA/VNS Photo Thanh Tung
A representative from Nhan Viet High School in Tan Phu District told Tiền Phong (Vanguard) newspaper that the school is ready to welcome students back. Every corner of the school has been sterilised. Teachers have spoken to parents about virus prevention measures and helped students review lessons through online chat groups.
According to Tiền Phong, many schools in HCM City have prepared hand sanitisers in the restrooms and along the corridors. Schools will continue to order hand sanitisers and medical face masks to make sure each classroom has at least one sanitiser bottle. Students who do not bring face masks will be given them for free.
Schools in the city will be sterilised one more time this weekend before they are re-opened next Monday.
School representatives said prevention measures will be added to the curriculum on the first day after the students return to school.
Go Vap High School in Go Vap District will spend Saturday and Sunday teaching students lessons they missed during their time off, so they are up to speed for the ongoing second semester.
Classes for talented students which are normally run on Saturdays will be delayed. The students will learn by themselves using documents provided by teachers or ask teachers for training at a suitable time.
Nguyen Van Hieu, deputy director of HCM City's Department of Education and Training said schools must not merge too many lesson periods into one week, putting pressure on students. Students must take a Sunday off if they go to school on Saturday or vice versa.
Luong The Vinh High School in District 1 will stop all outdoor activities usually organised every Saturday to prevent further spreading of the virus.
The Ministry of Health this week said schools nationwide were allowed to re-open if hygienic measures are ensured.
The decision will be made by local people's committees depending on the conditions of each province or city.
The people's committees of central Khanh Hoa Province and southern Dong Nai Province decided to re-open schools on February 17 after two weeks off.
Schools have been asked to make preparations to teach students lessons they missed and ensure hygienic conditions as recommended by the health ministry.
Meanwhile many localities have not decided the exact time to re-open schools.
As Hanoi plans to re-open schools next Monday, chairman of the municipal People's Committee Nguyen Duc Chung on Wednesday ordered districts to sterilise all schools for the third time this weekend and prepare hand sanitisers at all classrooms, especially at day-boarding schools.
In Vinh Phuc Province, which is the hotspot of COVID-19 with 11 out of 16 infection cases so far, students will continue to be off school until February 23.
Thirty-eight students are among those who showed symptoms of coughing, fever and shortness of breath in the province and are being monitored.
Those in contact with a tenth grader from Vo Thi Sau High School in Binh Xuyen District who tested positive for COVID-19 have been quarantined.
The provincial authorities have prohibited activities of all local foreign language, computer science centres and extra classes.
Nguyen Quoc Anh, deputy director of the Department of Education and Training of central Ha Tinh Province said although the province had not recorded any infection cases, the department is following the development of the epidemic. So far it cannot be confirmed when students will return to school.
Huynh Thi Thu Nguyet, principal of Nui Thanh Primary School in Hai Chau District, central Da Nang City said the school had two body temperature machines to measure students' temperature before and after classes. Teachers and students will wear face masks in classrooms. Teachers will use microphones to talk to students and instruct students to wear masks even during break time.
"We have proposed halting activities of day-boarding schools," she said.
Hai Chau District's Division of Education and Training has submitted the proposal to the city's authorities and is waiting for a response. — VNS

Schools in HCM City will reopen from February 17 after two weeks of closing to prevent the spreading of Coronavirus, said the deputy director of HCM City Department of Education and Training Nguyen Van Hieu.  

Localities across the country are proactively implementing measures to prevent the spread of novel coronavirus (COVID-19).