Education departments around the country should instruct local schools to choose reputed and quality transport service companies to pick up and drop off their students, the Ministry of Education and Training has said.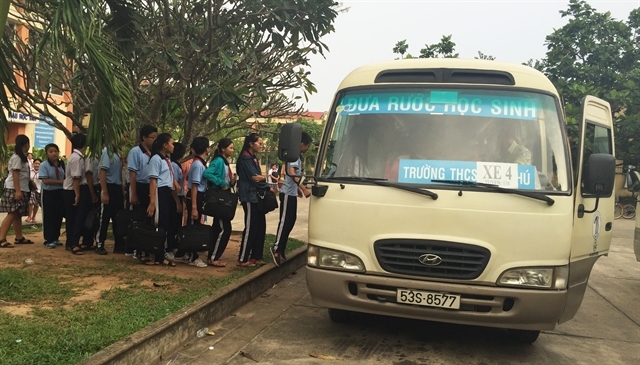 HCM City subsidises by 50 per cent the cost of operating buses for 14 public schools in crowded areas. Photo lmhtx.hochiminhcity.gov.vn/
The instruction comes in the wake of a first grader's tragic death after he was left behind on an international school's bus in Hà Nội last Tuesday.
Bùi Văn Linh, deputy head of the ministry's department of political affairs and students service, said pick-up and drop-off by school buses is becoming popular in many provinces and cities because of several reasons.
However, many transport companies have sub-standard buses and drivers who lack awareness of safety rules, he admitted.
The ministry plans to work with the National Traffic Safety Committee to issue more detailed regulations and guidelines about the responsibilities of various parties to ensure students' safety.
The committee has urged province and city governments to instruct their education and transport departments to check and end the contracts of transport companies that violate traffic safety regulations.
In HCM City, many public schools have been hiring transport co-operatives and companies since 2000-2001 while many private schools have their own buses.
The city provides a 50 per cent transport subsidy to 14 public schools situated on congested streets.
More students use school buses in outlying districts than in inner areas.
Nguyễn Xuân Đắc, principal of Nguyễn Gia Thiều Secondary School in Tân Bình District, told Việt Nam News: "Public schools in the district co-operate with the Pick-Up and Drop-off Service Co-operative for the service."
However, many of their vehicles are Daihatsu trucks which are small and open at the back, making it unsafe for their passengers since children are likely to play near the open back, he said.
In Hà Nội, many public and private schools are scrambling to ensure the safety of students travelling by their buses.
Nguyễn Xuân Khang, principal of Hà Nội Marie Curie School, said on the school's website: "I understand the complications and risks during the transport of my school students by buses."
After the accidence at the Gateway International School, the school has begun to pay more attention to managing its buses.
It has instructed drivers and other staff to check the buses after students get out before drivers take them to the parking lots.
Drivers have been told to park near pavements and observe carefully before closing the door. VNS