Authorities of An Giang Province in Mekong Delta said on Monday that erosion along the Hau River passing Vinh Truong Commune, An Phu District has become a serious issue worthy of being a "emergency situation."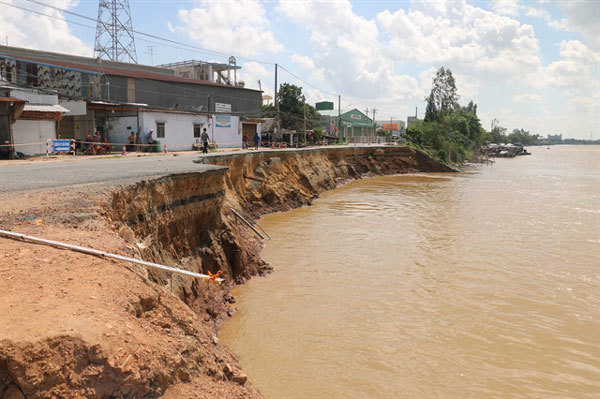 A part of the erosion along the Hau River in Mekong Delta's An Giang Province. — VNA/VNS Photo Cong Mao
Under a decision signed by Tran Anh Thu, vice chairman of the provincial People's Committee, the committee asked the Department of Natural Resources and Environment to localise the high-risk area and set up a safety corridor around it.
The An Phu District People's Committee is responsible for keeping close watch on the area and moving residents out of dangerous places.
The committee must set up warning signals and fences to prevent people and vehicles from passing the area.
Inspectors must patrol around the area regularly and keep public order.
The An Phu District People's Committee must quickly choose an investor and compile a plan to treat the erosion part based on present regulations.
The An Giang Department of Agriculture and Rural Development said the erosion has been worsening during the past years.
Road 953, which is also a dike protecting 3,500ha of agricultural land and more than 3,000 households, might also be directly affected given its proximity to the area undergoing erosion.
Data of local authorities showed that from 2016 to July 2019, the Hau River passing Chau Phong Commune has had six cases of erosion and one case of cracking with total length of more than 1.1km.
As many as 37 households were moved to safe places.
The latest erosion happened on July 22 this year with length of 40m and width of 10m.
Ca Mau takes prompt actions against dyke erosion
A stretch of the western dyke system is temporarily reinforced in Tran Van Thoi district of Ca Mau province
The southernmost province of Ca Mau is prompting actions in response to the serious erosion along the dyke system in its western sea area.
Local authorities reported that there have been 21 erosion sites along 30,260 metres of the western sea dyke system in U Minh and Tran Van Thoi districts.
It is worrying that in early August, due to torrential rains and big waves following Storm Wipha, sea water spilled over dykes, leading to even more severe erosion along the local western coast that may cause dyke breaching at any time.
In that case, about 26,160 households and 90,000ha of farmland could be directly affected, authorities said.
Facing this fact, the Ca Mau People's Committee has declared a state of emergency due to erosion along the western dyke system so as to mobilise every resource for dyke reinforcement.
The province is also speeding up dyke construction projects to improve the capacity of the local dyke system.

The People's Committee of the Mekong Delta province of An Giang has declared a state of emergency due to land erosion along the Ong Chuong River in Cho Moi district.  

Nguyen Huu Thien, an independent researcher on the ecosystem in the Mekong Delta talks to Nông thôn Ngày nay (Countryside Today) newspaper on the serious problem of land erosion in the region.
VNS