Six men have been prosecuted for bribery in a protection racket that ramped up billions of dong from truck drivers to avoid traffic offences, Hanoi police announced on Sunday.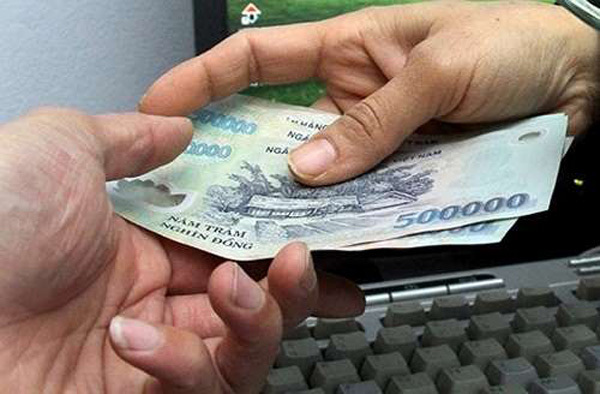 The men admitted more than VND12 billion was spent to grease the wheels. — Illustrative Photo
Following extended investigations in late July, police accused Nguyen Anh Hao, 38, Le Van Cuong, 39 and 26-year-old Pham Van Vinh of offering bribes.
Three former traffic inspectors including Le Ba Dung, 45, Nguyen Quoc Cuong, 46 and Tran Sy Cuong, 35, were charged with taking bribes.
According to the police, in March, 2016, Cuong – a former official of the Roads Management I Department under the Directorate for Roads of Viet Nam – teamed up with Hao and Vinh to design and print logos of the Tuan Vinh Trade and Transport Investment JSC. Vinh was the director general of the company.
Their purpose was to make the logo an indicator for corrupt traffic police officers to ignore violations by vehicles carrying it.
Drivers who sought such protection had to make monthly payments to the trio for the logo.
In the first few months, Cuong spent VND100 million (US$4,300) while Hao chipped in VND50 million to establish connections with traffic police. Vinh, meanwhile, paid VND35 million a month for the protection of over 10 trucks of his own company.
The business started growing in January 1, 2018 when several drivers realised the logo helped them avoid fines. Hao was said to offer protection to between 80 and 90 vehicles and Vinh had about 40-50 trucks under his watch. The two men collected VND300 million and VND200 million a month respectively.
Hao and Vinh admitted the total amount earned from the drivers reached nearly VND14 billion ($608,700), while more than VND12 billion was spent to grease the wheels. They had all levels of connections from traffic police in districts to city inspectors.
They said that they gave VND440 million to the traffic officers each month when they met at a café or the officers' workplaces.
Hanoi police's investigation, however, only determined the amount at VND295 million. Nguyen Quoc Cuong, former traffic inspector of Hai Ba Trung District, received VND63 million, Le Ba Dung, former inspector in Hoang Mai District, took VND96 million while Tran Sy Cuong, a former mobile police inspector of the city Department of Transport, got the lion's share of about VND136 million.
VNS