On Sunday afternoon, a vessel of the High Command of Marine Police reached a fishing vessel that had been stranded at sea with a broken engine in the Hoang Sa (Paracel) Islands since June 30 and took over the rescue effort 
from a fishing boat that was previously called into action.
Rescue centre saves 16 fishermen
52 fishermen rescued off Da Bac Island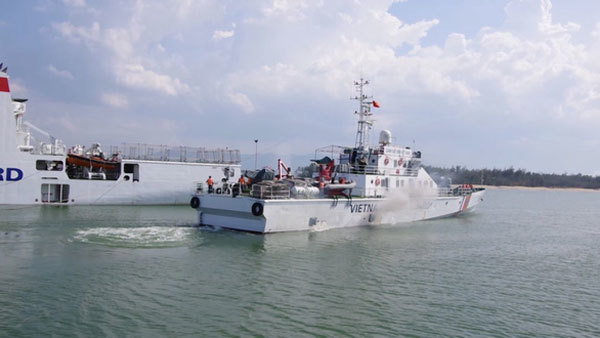 The High Command of Marine Police ship that was sent to rescue the fishing vessel which had been stranded at sea since June 30 with a broken engine. — Photo tuoitre.vn
There are six fishermen working on vessel QNg 90499 from the central province of Quang Ngai. They reportedly had enough food and water for just three more days.
Vice Chairman of the province's Binh Son District People's Committee Nguyen Quang Trung said the local authority on Saturday contacted a fishing vessel working near the stranded vessel and asked it to help.
However, because of bad weather, the fishing vessel could only tow the other ship at a speed of about two to four nautical miles per hour. The High Command of Marine Police vessel will be able to complete the rescue more quickly.
VNS