The Viet Nam Association for Victims of Agent Orange/Dioxin (VAVA) in collaboration with the National Humanitarian Information Portal 1400 launched an SMS campaign to mobilise funds to support Agent Orange victims in Vietnam on Tuesday.
Association renews lawsuit in US for Agent Orange victims
Funding issues mean Agent Orange victims have no place to call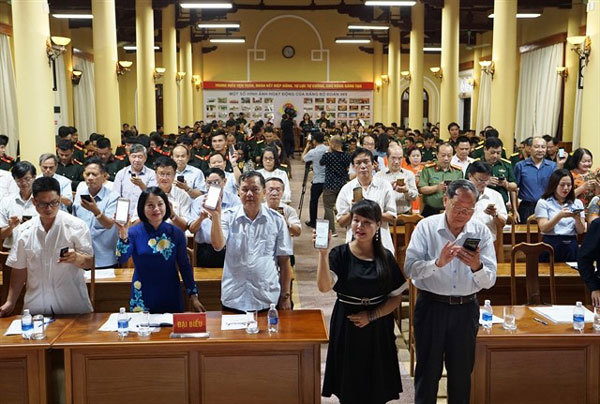 Delegates respond a SMS campaign to mobilise funds to support Agent Orange victims in Vietnam on Tuesday. — VNS Photo Thanh Hai
The campaign, entitled 'Joining hands to ease the pain of Agent Orange in 2019', aims to help the victims of Agent Orange and their families overcome their pain and difficulties.
People can support the programme by texting DA CAM to 1409 from now to the end of 2019. Each text message will contribute VND20,000 (US$0.9) to the Fund for Agent Orange Victims in Vietnam.
Besides SMS, organisations and individuals can support the programme by donating goods or transferring money to the association's bank. The account number is 0031101234005, Military Bank JSC., Thanh Xuan District branch, Hanoi.
At the launching ceremony, the Viet Nam AO/Dioxin Victims' Association president Nguyen Van Rinh called on all Vietnamese people and the business community to join hands to help victims of Agent Orange.
The money collected will be used to fund medical check-ups, drugs and savings accounts as well as to repair houses.
The programme has chosen Vuong Thi Quyen, a victim of Agent Orange, as its goodwill ambassador in the hope that she will inspire the community, especially the young, to overcome difficulties.
The VAVA's Statistics said that Vietnam has more than 3 million Agent Orange victims. The VAVA has mobilised more than VND19.35 billion ($830,000) from the community to help Agent Orange victims since 2011, including VND1.67 billion ($71,700) in 2018.
VNS