A social worker from HCM City's Social Support Centre has been accused of sexually abusing children.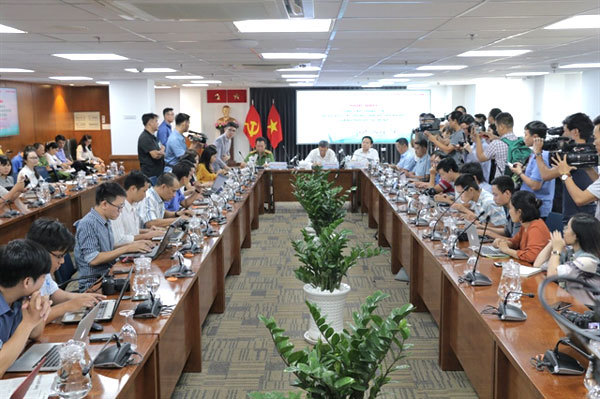 HCM City's police and authorities hold a press conference on Monday to provide information relating to the child sexual abuse incident at the city's Social Support Centre. — Photo zingnews.vn
It will come as no surprise that this news has caused nationwide uproar.
He has reportedly admitted to police that he did molest three girls, aged 13 and 14-years-old.
The man allegedly groomed the children by giving them cigarettes and soft drinks before abusing them.
This is not just unacceptable and unforgivable, but the real shocking factor is that this man was supposed to be in a position of trust. He was there to protect the youngsters, not abuse them.
Many of the children in his care are orphans, or street kids, desperate for love and desperate for a parental figure in their lives.
Instead, they came face to face with an abuser.
The suffering they have endured will remain imprinted on their minds for the rest of their lives. It will haunt them in the sleep.
Information from related agencies revealed that one of the girls had shown signs of psychological instability. She said she and other girls had been molested by the man many times.
If this is not bad enough, it appears the abuse was carried out in front of two younger children, aged eight and ten. Both will no doubt have mental scaring that will be difficult to erase.
Vice Chairman of the National Assembly's Committee for Social Affairs Bui Sy Loi said the most severe punishment possible must be handed down. Social workers are there to protect, not abuse.
Their victims are often easy prey as already in their young lives, many will have suffered more than most adults ever will.
But what this man is, is a rotten apple spoiling the barrel. There are so many dedicated, hardworking caregivers around the country who spend their lives helping those less fortunate.
They play an important role in protecting children, including preventing and responding to violence and abuse and never be tarred with the same brush.
The incident in HCM City may well be a one-off, and we all hope and pray that it is. That said, a thorough and detailed investigation must be held to make sure there is no more rotten fruit spoiling the tree.
The authorities of HCM City on Thursday asked all social support centres to review their works and assign female workers to work with girls living at their centres who had been abused.
Vietnam has made great efforts in tackling child sexual abuse. The Law on Children and the Penal Code includes many important provisions to better protect minors from sexual abuse and other forms of violence.
Vietnam was the first country in Asia and the second in the world to ratify the United Nations Convention on the Rights of the Child in 1990.
The National Assembly Standing Committee has recently decided that preventing child abuse would be its prime focus in 2020 as part of its supervisory duties.
However, sexual abuse of children is still a major problem in the country.
Statistics from the National Assembly of violence and abuse of children in 2017-18 and the first quarter of 2019 showed that nationwide there were nearly 3,500 cases, of which more than 60 per cent involved sexual abuse.
Approximately, one in every four children in Vietnam is a victim. A sexual assault against a minor is reported every eight hours.
However, due to the culture of secrecy around abuse, the real numbers are suspected to be much higher.
Child sexual harassment could happen anywhere, including places considered safe for the kids like homes, schools, neighbourhood and social support centres.
More needs to be done to protect the children.
We can't wave a magic wand and create a society where peadophiles don't exist, but instead we can raise public awareness, ensure a solid legal system is in place, and when crimes are committed, make sure the most severe punishment is handed out.
Earlier this year, Vietnam launched a national campaign 'Safe Year for Women and Children' which included solutions to better protect them from violence and sexual abuse.
As part of it, a seminar was held in June to call for actions to create safe spaces for women and children.
According to the United Nations Population Fund, a safe space is a place in which women and children can feel physically and emotionally secure and enjoy the freedom to express themselves without the fear of judgement, trauma, violence or fear.
With stronger and more effective measures from the Government and the community, we hope every year, every month, every day and every place is safe for children.

 The HCM City's Association for Protection of Child's Rights and several experts have called on the government to prosecute a former official of Danang City for child sexual abuse.  

Despite rising social awareness of child sexual assaults, legal loopholes still exist which made it difficult to administer appropriate punishments for the crime.  
Khanh Van
VNS