About 69% of the Vietnamese suffer from undetected hyperglycemia, and only 29% of people with diabetes are being treated.
Some 6.3 million Vietnamese people are predicted to suffer diabetes by 2045, VnExpress cited a survey by the Ministry of Health (MoH).
In 2017, there were 3.5 million people with diabetes, according to the International Diabetes Federation (IDF). An MoH survey in 2015 showed that nearly six out of 10 patients have complications.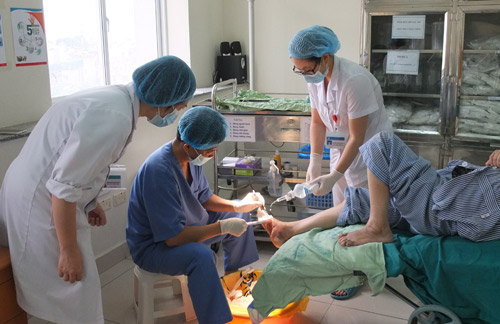 Doctors at the National Hospital for Endocrinology in Hanoi take care of a patient suffering from complications with diabetes. Photo: danviet.vn
About 69% of the Vietnamese suffer from undetected hyperglycemia, and only 29% of people with diabetes are being treated.
"Screening for diabetes complications is an important part of effective disease management, ensuring optimal health for patients," said Luong Ngoc Khue, director of the Medical Examination and Management Department under the MoH.
On November 14, the MoH introduced an application named Diabetes Journey to provide doctors with guidance on objective diagnosis and recommendations for appropriate treatment options. "This is a useful tool for doctors to treating diabetics," Khue commented.
Diabetes is a rising non-communicable disease in Vietnam. The disease causes many complications and burden for patients, families and the national economy. In many countries, possible complications of diabetes include hypoglycemia, kidney failure and vision loss, among others.
At a conference held in Hanoi on June 16, many experts noted that many Vietnamese people are not aware that they are diabetic.
"Vietnam is one of the Asian countries with a high rate of diabetics, 5.5% of the population between 20 and 79. About 13.7% of the entire population is pre-diabetic," Tran Huu Dang, president of the Vietnam Association of Diabetes & Endocrinology told VnExpress.
The number of Vietnamese people with diabetes, the third leading cause of death in the country, has almost doubled in the last decade, Dang stressed.
Several studies have said that unhealthy diet, sedentarism and genetic factor are the main causes of diabetes.
The IDF reported 425 million people ranging from 20 to 79 years old in the world were found to get diabetic in 2017 and the number is expected to rise 48% to 629 million by 2045. Hanoitimes
Anh Kiet

Non-communicable diseases are the top cause of death in Vietnam, according to Deputy Health Minister Nguyen Truong Son.

The Ministry of Health (MoH) has added chickenpox, mumps and rubella to the list of infectious diseases capable of rapid transmission and potentially fatal.