At the age of 64, many people decide to spend more time with their families and friends or focus on travel and hobbies, but Ha Ji-won from South Korea has been visiting poor remote areas for a month each year.
Road to school for students in remote mountain areas
Charities provide scholarships, bikes for VN kids
Students build school for poor children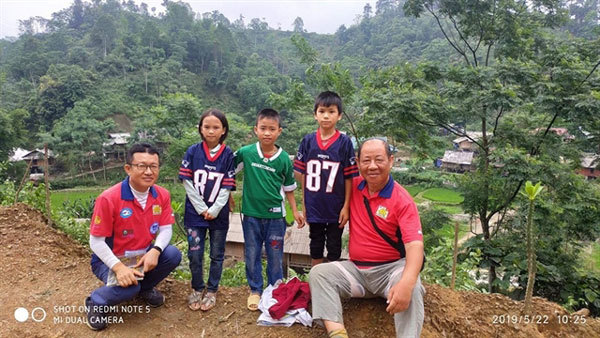 Ha Ji Won (first right) and Kim Min Gu (first left) with children living in a poor remote area in Vietnam. — Photo courtesy of Sa.U.CCum scholarship association
Ha Ji-won has been working and living in Vietnam for 13 years,
I met Ha after he had completed his walk from Phu Tho to Son La, where he had given scholarships to children. He spoke about the walks that he and his friends have taken since 2014.
As a long-time member of the Association of Korean People Loving Viet Nam (VESAMO), Ha and other members in 2015 took a trip to Tra Vinh Province where he saw difficult learning and living conditions of students at Nguyen Duc Toan Secondary School.
"Seeing the plight of the children made me sympathise with them since I also experienced a difficult childhood. This motivated me to help them," he said. "Since then, each year, my friends and I spend a month walking to poor remote areas and giving scholarships and gifts to the children there."
In 2014, Ha started a walking journey from HCM City to Da Nang City and in 2015 he walked from Da Nang to Hanoi.
The following year, he walked from the Ca Mau Cape to HCM City, and in 2017, from Hanoi to Lang Son Province.
Last year, he and his friends completed a one-month trip from Lang Son to Cao Bang and Ha Giang provinces and ended at Hung Temple in Phu Tho Province.
In early June, he finished a walk from Hung Temple to Son La Province and awarded scholarships to poor children living in those provinces.
The scholarships come from Won, the members of VESAMO, and other charities.
"The number of students who have received scholarships so far is about 30 in each province where we visited. Each scholarship costs only VND3 million (US$127) to VND4 million, but for children in disadvantaged areas, this is a gift that has great meaning for them."
"When the children saw a group of foreigners coming and giving them gifts, they were excited and happy," Ha said. "My upcoming plan this year is to raise money to build 600 metres of road to a kindergarten in Lao Cai Province."
The school is located in Muong Khuong District close to the border with China. All students at the school are poor ethnic minorities.
The road to the school is always covered in fog, making travel difficult.
Ngo Quang Nhat, who has joined the trips since 2015 for the first one or two weeks, is responsible for talking to the schools about the scholarships.
He said the purpose of giving scholarships is to motivate the children and bring them joy, so they could overcome difficulties in life.
"Last year, we not only gave scholarships to students in Cao Bang and Ha Giang provinces but also we donated money to many schools with poor facilities there to improve their living and studying conditions," Nhat said.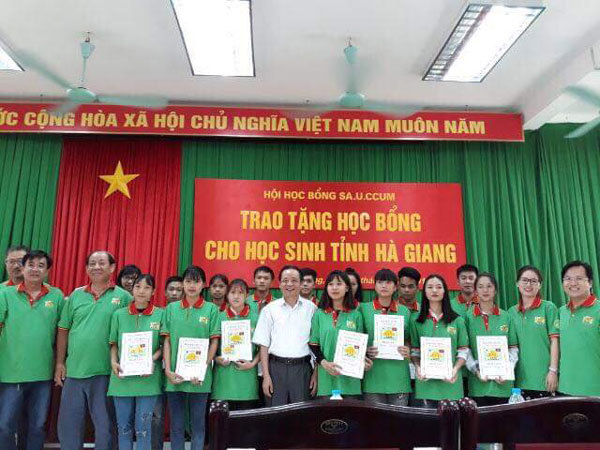 Awarding scholarships to students in Ha Giang Province in 2018. — Photo courtesy of Sa.U.CCum scholarship association
"Ha is always the person who prepares the schedule, learns about the historical relics to visit and exchanges cultural customs with the local people," Nhat said. "Many people think that it will cost a lot to walk instead of using a vehicle. However, we always bring our own food and drink, and sleep in local people's houses."
Ha said that walking helps him see "the landscape to the fullest and have the opportunity to meet and chat with the locals so I can understand their living conditions and culture here."
"Before each trip, I have to contact charity organisations to call for donations and the local authorities to receive a list of poor children in the area," he said.
The total distance that Ha has travelled so far is 3,520km. He expects that by 2022 he will complete 5,000km, the figure he originally proposed to celebrate the 30th anniversary of the establishment of diplomatic relations between Vietnam and South Korea.
"I would like more people to join me to help children in poor remote areas. You do not need to spend a month to join, but you can join for two to three days with the group to feel the meaning that this journey brings to the poor children," Ha said.
Kim Min Goo, who joined the latest trip with Ha, said: "The trip takes time, but we don't have difficulties. We just want to be able to help more people."
To make a donation to the group, email jiwon5652@daum.net.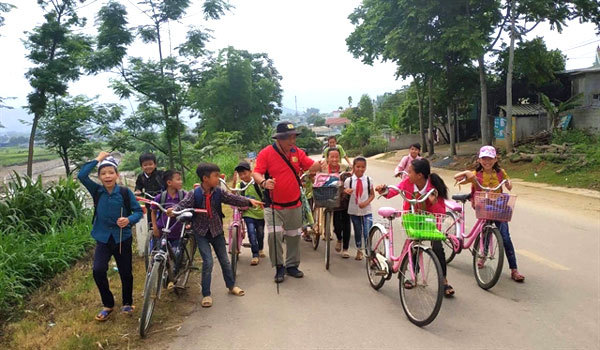 Giving gifts to poor children. — Photo courtesy of Sa.U.CCum scholarship association
By Xuan Dang
VNS