Advanced farming techniques and value chains are needed to tap the potential of fruit cultivation in the southern region, which contains 60 per cent of the country's fruit-growing areas, experts have said.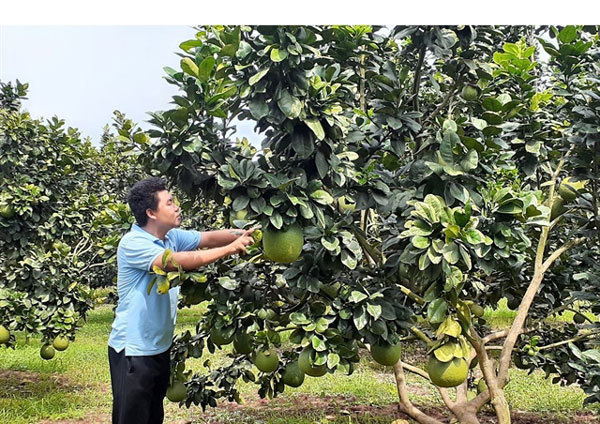 A grapefruit orchard in the southern province of Ba Ria – Vung Tau. — VNA/VNS Photo Hoang Nhi
Pham Truong Yen, deputy director of the Can Tho City's Department of Agriculture and Rural Development, said the region continued to have a high rate of post-harvest losses and low investment in post-harvest preservation and fruit processing.
Yen spoke at a seminar held in Can Tho on Tuesday (December 17) that addressed the southern region's need to restructure its fruit growing areas. The yield of fruit is lower than the average yield in other parts of the world, seminar participants noted.
Although the regon's fruit area has expanded, it is still small scale and scattered. As a result, linkages between farmers and companies are weak, and fruit quality is uneven, according to the Ministry of Agriculture and Rural Development's Plant Cultivation Department.
The region has more than 596,300ha under fruit cultivation and harvests about 6.6 million tonnes a year, up more than 61 per cent against 2010.
Mango, durian, longan, banana and pineapple are among the region's key fruits that have high export value.
Nguyen Hoang Cung, director of the Dai Thuan Thien Co Ltd in Can Tho, said that farmers were co-operating with companies to grow clean fruit under standardised farming methods to meet market demand.
The co-operating companies are required to have adequate business capacity while farmers must follow their contracts, he said.
Cung's company has worked with farmers successfully, and the company's fruit supply meets market demand.
Le Thanh Tung, deputy head of the Plant Cultivation Department, said that outdated farming techniques and the low application of intensive farming had adversely affected fruit cultivation.
To ensure sustainable production, the department and agencies are encouraging farmers to focus on both yield and added value.
Fruit farmers will also be encouraged to switch to high-value fruits, apply advanced farming techniques, and establish fruit-growing areas that meet the requirements of companies for domestic sale and export, he said.
Localities should develop concentrated fruit growing areas, expand key fruit areas, encourage farmers to join cooperatives or cooperative groups, and link with companies to guarantee outlets for farmers' products, the Department of Plant Cultivation said. VNS

Intercropping and advanced farming techniques used in the Central Highlands provinces are helping farmers adapt to the effects of climate change, including unusually heavy rains, whirlwinds and prolonged droughts.

Famous orchards in the south have improved their services and are now attracting many local and foreign visitors who want to sample local fresh food and commune with nature.