Southern localities affected by typhoon Wipha, have taken drastic measures to ensure the safety of people living in high risk areas.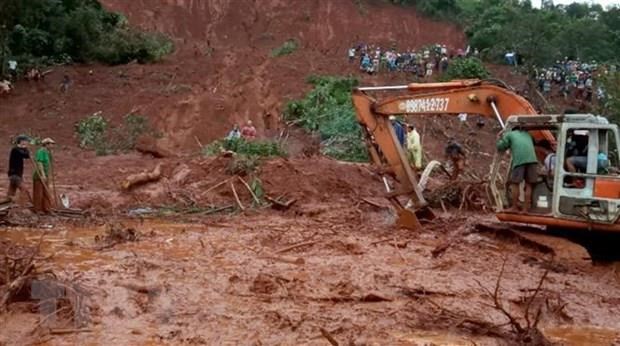 The Dak Kar hydro-electric dam in Binh Phuoc province was hit by a landslide on August 8. 
On Phu Quoc Island in the southern province of Kien Giang, the authority bannedall vessels from going to sea and halted all meetings while mobilising allforces to prepare for bad weather.

Mai Van Huynh, chairman of the People's Committee of Phu Quoc district, told Tuoitre (Youth) online newspaper "Most of the island has been inundated with rainby noon of August 9."

Even areas that had not been flooded before, including communes of Duong To, HamNinh, Ganh Dau, and An Thoi town, were now inundated, he said.

It was estimated more than 4,400 households were submerged, the island's DuongDong town suffered the most from the storm, he said.

Local rescue teams and soldiers evacuated thousands of people to temporarilyaccommodation in health centres, offices, schools and hotels that had not beenflooded.

In the southern province of Binh Phuoc, rescue forces on August 9 evacuated5,000 people living in Bu Dang district downstream of Dak Kar hydro-electricdam after the dam was put on high alert due to prolonged torrential rains andits valve door was jammed on August 8 afternoon.

Previously, the locality also evacuated about 1,000 people to safer places inthe district.

The move came after the provincial steering committee on natural disasterprevention and control together with Dak Kar Hydro-power Joint Stock Companychecked the water level of the dam at 3pm on August 8.

At that time, the water level of the dam is 477 metres, equal to about 14million cubic metres of water. Due to the torrential rains, water hadoverflowed causing a landslide at its foot. Torrential rains of 80-100mm areforecast in the coming days.

In the southern province of Dong Nai, authorities on August 9 continuedevacuating an additional of 1,200 households, living in four communes of Nuituong, Nam Cat Tien, Dac Lua and Phu Thinh in Tan Phu district, near Dong NaiRiver, to a safe place after torrential rains hit the river's upstream.

The Dong Nai 5 Hydropower Plant discharged water on Thursday night, causingproblems for the communes.

Previously, the administration evacuated 700 households in the communes atmidnight of August 8, said Vo Tuan Dung, chairman of the People's Committee ofthe district.

It was estimated that hundreds of tonnes of caged fish and poultry died due tothe flooding.

The National Centre for Hydro-meteorological Forecasting on August 9 warnedthat heavy rains with rainfall of 50-120mm would continue hitting southernprovinces of Dak Nong, Lam Dong, Binh Phuoc, Dong Nai on August 10.
Floods take heavy toll on Central Highlands
Floods caused by torrential rains over the last few days have wreaked havoc across the Central Highlands, according to the Central Steering Committee for Natural Disaster Prevention and Control.
As of 16:00 on August 9, floods had claimed eight lives and inundated 1,495 houses and 10,199ha of crops in the region, which consists of Gia Lai, Kon Tum, Dak Lak, Dak Nong and Lam Dong provinces.
On August 7, the central steering committee and the National Committee on Natural Disaster Response, Search and Rescue jointly issued a dispatch requesting the provinces and relevant agencies to promptly take actions to cope with torrential rains, floods, landslides and unexpected incidents.
They noted that on August 6 night and August 7, the Central Highlands recorded an average rainfall of 100 – 150mm, even 363mm in Ia Lop commune of Dak Lak, 215mm in Ea Bar commune of Dak Lak, and 231mm in Dak Ru commune of Dak Nong.
Downpours are forecast to continue in the region before beginning to gradually reduce from August 11.