Authorities have been asked to find the truck that was used to pour engine oil into a spring near Song Da Water plant. The oil spill has been identified as the cause of the foul smell of the tap water used to supply residents of Hanoi.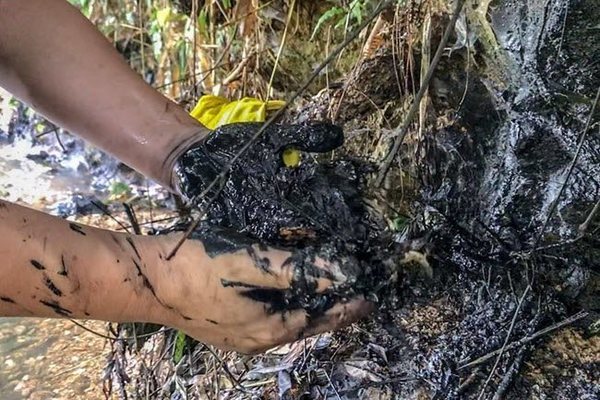 Engine oil is found sticking on a bank of a spring near Song Da Water plant - PHOTO: VNA
Hoang Van Thuc, deputy head of the Vietnam Environment Administration, under the Ministry of Natural Resources and Environment, said that the ministry has worked with its subordinate department in Hoa Binh Province to investigate the situation since October 8, following complaints from local residents.
According to the locals, the 2.5-ton truck had poured motor oil into Tram Spring, which flows to a canal connected to the water plant operated by Song Da Water Investment JSC.
However, the witnesses were not able to clearly see the vehicle's license plate number, Thuc said at a regular press briefing by the ministry on October 14.
On being notified of the spill, the plant hired workers to clean up the oil in the spring, he added.
The official said that the firms or individuals involved in polluting the spring had committed a serious, irresponsible act of vandalism, as Song Da Water plant supplies tap water to thousands of households in Hanoi.
The ministry also sent a working delegation to cooperate with the subordinate department in Hoa Binh and the relevant agencies to find the source of the strange odor.
According to the Department of Natural Resources and Environment in Hoa Binh, the spilled oil was collected and the department took samples for testing, said Thuc.
Earlier, many people residing in the districts of Ha Dong, Hoang Mai, Nam Tu Liem and Thanh Xuan had complained that their tap water had smelled of chemicals and burned plastic since October 8.
The foul odor had lingered for days, prompting residents to stop using the water for cooking and daily activities. Some urban areas in the city even bought bottled water for their residents.
While the locals voiced concern over the quality of the foul tap water, the municipal agencies and Song Da Water Investment JSC could not present any solutions or offer an explanation to the residents. SGT
 

People in some areas in Hanoi have voiced concerns over strange-smelling tap water.

The Ministry of Natural Resources and Environment have asked local authorities in Hoa Binh to find the truck discharging oil and contaminating the Da River which is believed to be the cause of polluted tap water in Hanoi.