The two-day event offers a good opportunity for central and capital press agencies to meet and review their progress during the past year.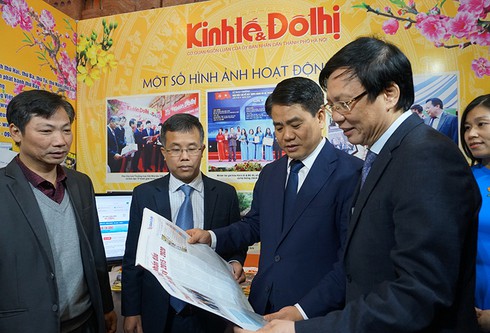 Chairman of the Hanoi People's Committee Nguyen Duc Chung visits the booth of the Economic & Urban newspaper. Photo: Kinhtedothi.vn
The Spring Press Festival, an important annual media event in Hanoi, officially kicked off on January 13 in the capital city, local media reported.
At the opening ceremony, Chairman of the Hanoi Journalists Association cum General Director of the Hanoi Radio and Television To Quang Phan affirmed that, for many years, Hanoi Spring Press Festival has become an important political and cultural event of both the central and local press agencies in the capital city.
To keep up with the development of modern press, a number of newspapers have implemented multimedia models. However, Spring Press Festival is still an indispensable spiritual dish for readers when spring comes.
This year's festival features 30 pavilions by numerous press agencies in the city as well as other localities, with dozens of publications which are creative and in-depth press works and vividly presented.
On this occasion, the Hanoi Journalists Association presented 2019 Ngo Tat To Press Awards to the most outstanding journalists, including two first, three second, four third and 20 consolation prizes.
The two-day event offers a good opportunity for central and capital press agencies to meet and review their development during the past year. Hanoitimes