The Information Security Department under the Ministry of Information and Communications and Ministry of Labour, War Invalids and Social Affairs' Department of Child Affairs have signed a co-operation plan regarding child protection online.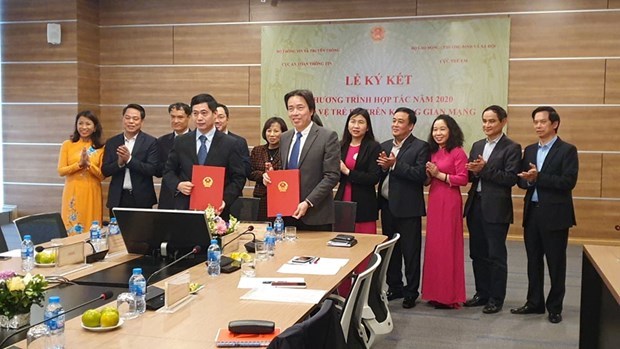 Information Security and Child Affairs departments on Thursday sign a co-operation plan on child protection online.
Addressing the signing ceremony in Hà Nội on Thursday, head of the Child Affairs Department Đặng Hoa Nam emphasised that the combination of the two agencies with advanced technology as well as knowledge and experience in child protection would create a new step for the protection of children, minimising negative impacts online.
The two agencies will focus on surveying and assessing the impact of this environment and develop a set of criteria for protecting children online.
The establishment of a child protection network will connect agencies, organisations and businesses to work together for children, forming a good process to prevent, detect, intervene and handle child abuse and exploitation online.
Through this network, children will easily speak out, access support services, be protected when at risk of being abused online, similar to the support process of kids at risk or being abused in real life, Nam said.
The two agencies will work together to make the internet safer for children but also as a vehicle for children to learn, create and access information. 
The two sides will coordinate to improve knowledge and skills on using the internet safely for children to protect themselves and promptly report acts of abuse. 
Việt Nam has built a legal framework to protect children effectively.
A national hotline for child protection at 111 and online educational materials to improve skills for children have been set up, developed and posted online.
The plan will also call on a co-ordinated response from domestic and foreign businesses to protect kids, as the amount of child sexual abuse, exploitation and fraud online is on the rise, Nam said. — VNS

Many families are struggling to look after their children after schools closed to prevent the spread of the Coronavirus.

While efforts are being made to prevent violence against children, much more work still needs to be done.