Storm No. 6, internationally known as tropical cyclone Nakri, is heading towards the central-south region from Quang Ngai Province to Khanh Hoa Province, with strong winds measured at levels 11 or 12, and gusting to level 15.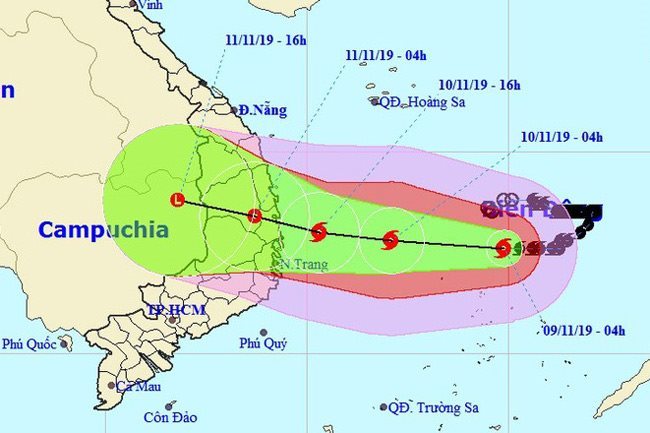 A map detailing the direction of Storm No.6 – PHOTO: NATIONAL CENTER FOR HYDRO-METEOROLOGICAL FORECASTING
At 4 a.m. today, November 9, the eye of the storm was spotted at 12.6 degrees North latitude and 114.9 degrees East longitude, 160 kilometers north-northeast of Song Tu Tay Island of the Truong Sa Archipelago, packing strong winds at level 12 and gusting at level 15, according to the National Center for Hydro-Meteorological Forecasting.
In the next 24 hours, the country's sixth storm in 2019 will move westward at 10 kilometers per hour and may further strengthen, the local media reported.
At 4 a.m. on November 10, the center of the storm will likely be some 290 kilometers east of Quang Ngai to Khanh Hoa provinces, with strong winds at level 12 (115-135 kilometers per hour), gusting to level 15.
The storm is forecast to move west-northwest at 10-15 kilometers per hour in the next 48 hours, making landfall on the mainland from Quang Ngai to Khanh Hoa provinces and weakening into a tropical low later.
By 4 a.m. on November 11, the tropical low may be centered at some 13.4 degrees North latitude and 108.7 degrees East longitude in many Central Highlands provinces, with the strongest wind at level 7, gusting to level 9.
Due to the impact of the storm, coupled with a cold air mass, the middle of the East Sea is suffering from strong winds measured at level 9, along with rough seas.
The coastal areas from Thua Thien-Hue Province to Ninh Thuan Province and the Central Highlands region will experience heavy rains due to the storm, with Binh Dinh, Phu Yen and Khanh Hoa provinces facing heavy downpours, whose total rainfall is expected to measure up to 400 millimeters. SGT

Local authorities have been ordered to instruct fishing boats and other vessels in the East Sea to take shelter as Nakri, the sixth storm to strike Vietnam this year, is strengthening.  

Tropical storm Nakri, the sixth storm to affect Vietnam in 2019, is moving slowly eastwards and is expected to change course and head to Vietnam's central region in the next 24 hours.