To preserve the Raglai ethnic minority language, two students at the Pinăng Tắc Ethnic Minority Boarding High School in Ninh Thuan Province have developed a mobile phone app for self-study.
Art troupe works to keep Raglai people's heritage alive
Vietnam promotes ethnic minority language preservation
Thai man preserves and promotes ethnic script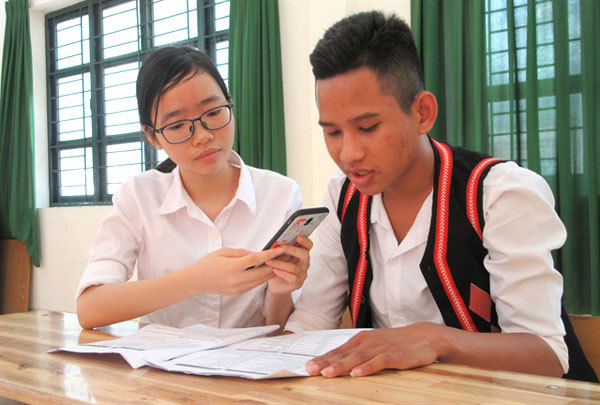 Mai Vĩ Hào and Pinăng Bảo record the language used by the ethnic minority group Raglai for use in their mobile app for smartphones.
The software developed by 12th graders Mai Vĩ Hào and Pinăng Bảo won third prize in the province's 2019 Youth and Children Innovation Contest.
Pinăng Bảo told Vietnam News Agency: "My school is for ethnic minority students, and most of them are Raglai. However, when I communicate with my friends who are not Raglai, they don't understand what I say."
The two students recorded words from the language to set up a database and used the popular programming language Java to encode the Raglai language into many groups divided by topics.
The mobile app runs on the Android operating system and can be downloaded on CH Play.
Because many old Raglai words have multiple meanings, the students had to study documents and consult with experts to learn the exact meanings.
Three months after study and implementation, they completed the software which contains 15 text boxes with a user-friendly interface.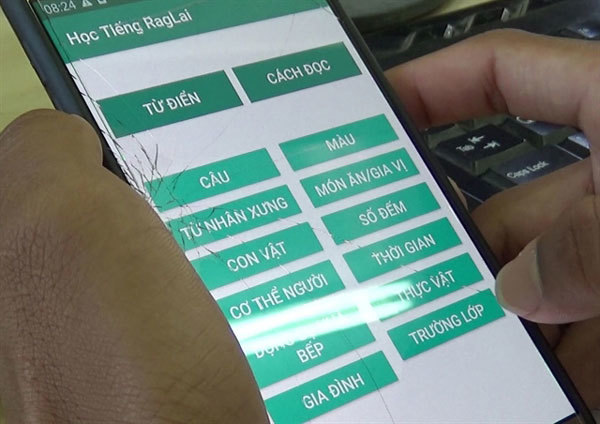 The self-study app for learning Raglai language runs on the Android operating system. — VNA/VNS Photos Nguyen Thanh

Bui Huu Pha, the school rector, said that students have used the software and further studied on the internet.
Since very few Raglai know how to write or read their native language, the smartphone app has been useful for them.
The Raglai tradition contains many epics, mythologies and tales with historical, artistic and educational values. However, most of these have been preserved by word of mouth.
The app has also helped officials at State offices improve communication with members of the Raglai ethnic group and better understand their culture and customs.
Hào and Bảo are collecting more Raglai words to upgrade the software and improve its interface.
VNS