As of 11.20 on February 14, 30 cities and provinces have reported to the Ministry of Education and Training on their decision to allow students back to school from February 17, after a two-week break due to Covid-19 outbreak.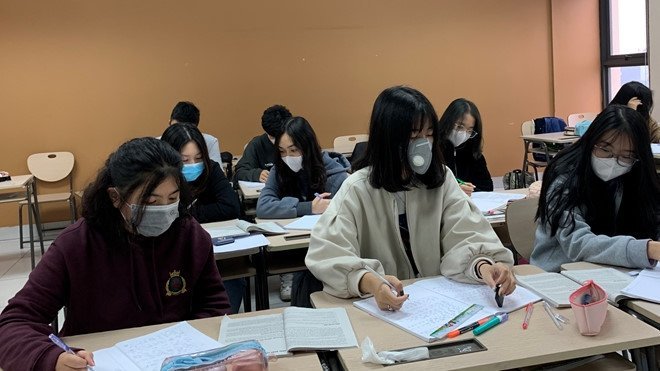 Students in many cities and provinces nationwide will return to school from February 17 after a two-weak break due to Covid-19. (Illustrative image)
The localities include Ha Tinh, Ha Nam, Soc Trang, Tay Ninh, Dak Nong, Hau Giang, Binh Phuoc, Son La, Lam Dong, Tra Vinh, Da Nang, Can Tho, Yen Bai, Quang Ngai, Ca Mau, Dong Nai, Lao Cai, Tuyen Quang, Vinh Long, Nam Dinh, Cao Bang, Kien Giang, Bac Lieu, Hung Yen, An Giang, Ninh Binh, Hoa Binh, Dien Bien, Dak Lak and Thua Thien-Hue.
Regarding the northern province of Vinh Phuc, which is a hotspot for Covid-19 with 11 infection cases detected so far, students will continue to be off school until February 22.
On Thursday, the MOET sent a dispatch to the directors of the Departments of Education and Training of provinces and centrally run cities and to the heads of the teacher training universities, colleges and secondary schools concerning the enhancement of measures to prevent and combat Covid-19 when students resume their school activities.
Accordingly, the ministry requested leaders of agencies and units to arrange enough resources for Covid-19 prevention and control and to strictly implement the Ministry of Health's specialised recommendations regarding the to-do contents before, during and after the time when students return to school.
The epidemic-free localities can allow students back to school after completing the sterilisation of classrooms and teaching equipment and the preparation of disease prevention measures for students (clean water and soap).
Meanwhile, in addition to implementing the aforementioned requests, the localities which have Covid-19 cases need to continue closely monitoring the situation and only allow students to resume schooling when prevention measures have been ensured following the Health Ministry's recommendations.
In its dispatch sent to the MOET to advise on Covid-19 prevention and control measures at schools, the Health Environment Management Agency (under the Health Ministry) recommends that parents should take measures to enhance students' health before they go to school, including doing regular salt water mouth and throat gargles, keeping the body warm, doing regular exercises and limiting contact with pets and wildlife animals.
Schools should not organise activities gathering many students, field trips, picnics and extra classes, while implementing the daily disinfection of classrooms, teaching equipment, doorknobs and stair handrails, the agency suggests.
Vinh Phuc to extend leave for students
The Vinh Phuc Provincial Department of Education and Training has proposed to close schools until February 23 as 38 local students have been monitored for Coronavirus infection.
Bui Viet Ha from the Department of Education and Training said due to the complicated situation in Vinh Phuc, they had proposed to keep schools closed from February 17 to 23. "Students will then stay three weeks at home which should be enough for any infected cases to emerge," he said.
Ha said they would officially submit the proposal this weekend.
All teachers and students at 72 schools and three education centres who showed symptoms such as breathing difficulties, coughing and high fever have been monitored at home and medical stations. Up to 38 students have shown symptoms in Vinh Phuc.
Confirmed cases are discovered in Son Loi, Thien Ke, Gia Khanh, Minh Quang and Hop Hoa communes. All schools in the areas have quickly worked with the health department and make plans to deal with the situation.
After a 10th grader at Vo Thi Sau Highschool was tested positive on February 2, the student and those who had made close contact over the previous days have been quarantined. The 10th grader is the sister of a worker returned from Wuhan who also tested positive on January 30. At least six other students had had close contact with the 10th grader.
Teachers were asked to help calm the students and teach preventive measures to let the students protect themselves.
According to Ha, the Department of Education and Training are making plans about teaching and learning schedules to make up for the long leave of absence.
"Primary schools can open extra classes in early afternoons or on Saturdays. Secondary and high schools students can have classes scheduled for both mornings and afternoon," Ha said. "If the Ministry of Education and Training extend the school year by one or two weeks then the scheduling work will be easier." VNA/Dtinews/VNN

Deputy Prime Minister Vu Duc Dam has asked the Ministry of Education and Training (MoET) to ensure health and absolute safety for students when they return to schools after a break due to the outbreak of COVID-19.

Schools in HCM City are making preparations to welcome students back after two weeks off due to the outbreak of novel coronavirus (COVID-19).