The Vietnam Students' Association on Wednesday launched the competition "Ideas for a student volunteer campaign", which aims to create a competitive atmosphere for youth and support their creativity and intelligence.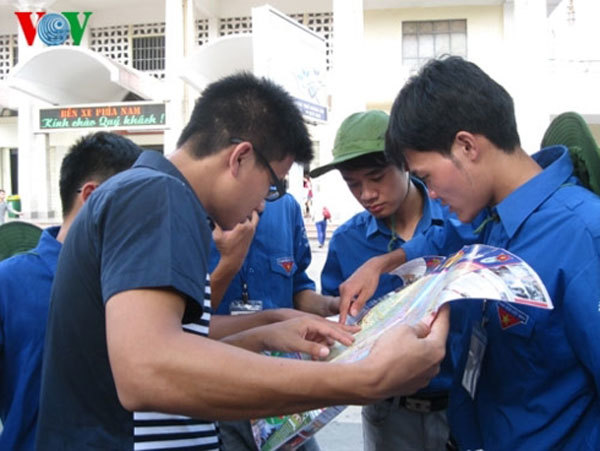 Student volunteers give guidance to a candidate in the national university entrance exam. — Photo vov.vn
Vietnamese students studying in Vietnam or abroad can join the competition as an individual or in groups of no more than three members.
The ideas to be submitted should focus on how to improve and resolve difficulties in different localities for this year's "Green Summer" student volunteer campaign.
The ideas can include setting up a rural new lifestyle, establishing a smart urban area, protecting the environment, coping with climate change, maintaining traffic safety, and taking care of children.
Speaking at the launching ceremony, Bui Quang Huy, secretary of the Central Committee of the Youth Union, said the campaign aimed to support the capacity of students and young lecturers.
"During the past years, students at different universities and colleges have presented ideas about the volunteer campaign, and the campaign will then make their idea a reality," he said.
Young people joining the competition will be supported with a maximum of VND200 million (US$8,600) to conduct their ideas.
The deadline to send documents is May 10.
The awarding ceremony is scheduled for May 31.
The first prize will be VND5 million ($215). The second and third prize will be VND3 million ($130) and VND2 million ($86) respectively.
VNS