Doctors from the Neurology Ward under the Can Tho General Hospital have successfully carried out an operation to remove a giant meningeal tumour from a woman.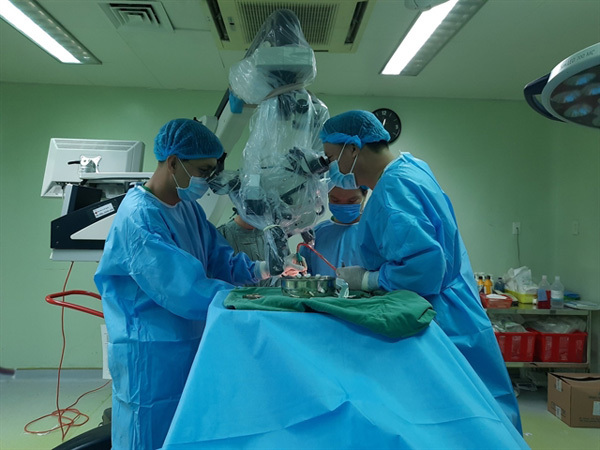 Doctors conduct the surgery. — VNA/VNS Photo Anh Tuyet
The tumour was about 7x9.5 centimetre in the base of the skull, with many main blood vessels feeding the tumour, making surgery to remove it very difficult.
The 39-year-old woman lives in Can Tho and was hospitalised on August 27 with a headache and blurred vision.
Medical records said she had had headaches for about five years and had been treated many times but to no avail. Over the past three months, her eyesight had faded, she lost her sense of smell and she suffered seizures.
Diagnostic imaging results showed she had large-sized basal meningitis. The surgery for the tumour would be complex and difficult because the tumour was stuck to large blood vessels. During the surgery, it would be easy to damage these blood vessels.
On September 8, a surgical team led by doctor Nguyen Dong Quan carried out microscopic surgery, requiring the surgeons to perform accurately and meticulously to burn the blood vessels that feed the tumour and stop bleeding.
After 10 hours in the operating theatre, doctors successfully removed the tumour while preserving the important structures.
On Monday morning, the patient was awake while her wound was dry. She had no fever, her eyesight had improved and the seizures had ceased.
Doctor Chuong Chan Phuoc, head of the Neurology Ward, said meningeal tumours account for about 34 per cent of primary brain tumours and usually occur between the ages of 30-70.
Meningitis grows slowly, so there are usually no symptoms. When the disease is discovered, the tumour size is mostly quite large, causing bad consequences on health. Therefore, people need to immediately seek medical treatment to be screened for meningeal tumours when they see one of the symptoms, such as a gradually increasing headache that usually starts in one location then spreads throughout the head.  VNS

Doctors at HCM City's Thong Nhat Hospital have successfully performed a surgery to remove the spleen of a 29-year-old woman who had tumours weighing 5kg inside it, the hospital said in a press release on Wednesday.

Surgeons at HCM City's City International Hospital successfully performed a 15-hour cerebrovascular surgery on a 57-year-old woman recently to remove a grade-IV brain tumor.