Amidst warnings about heatwaves and increasing ultraviolet (UV) index levels, people start to take measures they believed would protect their skin from the harmful effects of the intense sunlight.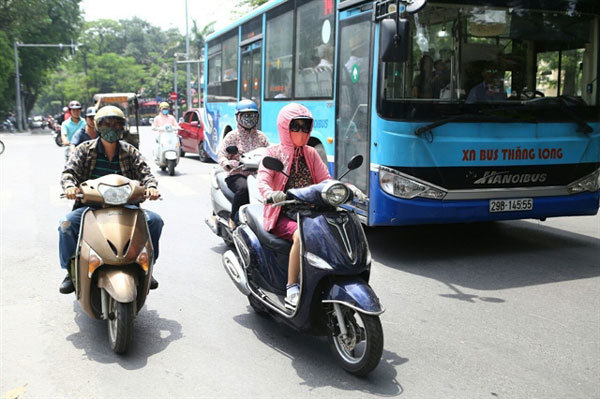 People wear clothes and face masks to protect themselves from the sun during this week's heat wave in Hanoi. — VNA/VNS Photo Danh Lam
For the last few years, sunscreen pills have been imported and advertised in Vietnam as the latest way to reduce UV exposure.
The pills are said to be nutritional supplements with antioxidants extracted from ferns or pomegranate seeds. They supposedly have the ability to protect skin from harmful UV rays. Some sellers claim they can help reduce ageing, prevent blackheads and improve overall skin health.
Advertisements typically highlight how easy the pills are to use: just take them orally 30-60 minutes before venturing out into the sun.
"It's much simpler than conventional sun protection measures – wearing hats and sunglasses, protective clothes and using sunscreen lotion," Nguyen Thi Lan Huong from Hanoi's Thanh Xuan District told Vietnam News Agency.
She said she usually used sunscreen but it took time to apply the lotion and wait about 30 minutes before going out.
Huong said she planned to spend her summer vacation at sea and she found it quite convenient to use sunscreen pills.
"I heard about the pills but I am still sceptical about their effectiveness because I don't know how to verify that they work," she admitted. For now, she uses both sunscreen lotion and pills.
Another Hanoi resident, Dang Diep Anh, said she saw many online advertisements about sunscreen pills but could not find the address of a store selling them.
Anh said the pills were said to be imported from Japan, but a friend who specialises in Japanese products had never heard of the product.
"I'm afraid of buying poor quality products that do more harm than good," Anh said.
Director of the National Hospital of Dermatology and Venereology Nguyen Van Truong said there was little if any proof from research in Vietnam or the rest of the world proving the efficacy of sunscreen pills.
He warned that advertisements could overstate the effects of the pills.
Truong said the only effective ways to prevent UV harm were to wear protective clothing, face masks, sunglasses and apply sunscreen lotion suitable for different skin types.
He added that people should limit exposure to the sun between 10 am and 4 pm when the UV rays are the strongest.
In May, 2018, Doctor Scott Gottlieb, who was at the time the commissioner of the US Food and Drug Administration (FDA), sent warning letters to companies "illegally marketing pills and capsules labelled as dietary supplements that made unproven drug claims about protecting consumers from the harms that come from sun exposure without meeting the FDA's standards for safety and effectiveness".
According to the FDA statement, "companies – marketing products called Advanced Skin Brightening Formula, Sunsafe Rx, Solaricare and Sunergetic – are putting people's health at risk by giving consumers a false sense of security that a dietary supplement could prevent sunburn, reduce early skin ageing caused by the sun or protect from the risks of skin cancer."
"There's no pill or capsule that can replace your sunscreen," the statement said.
VNS