Vice Chairman of the National Traffic Safety Committee Khuat Viet Hung talks about proposals to the Government to promote green and environmentally friendly traffic in Vietnam.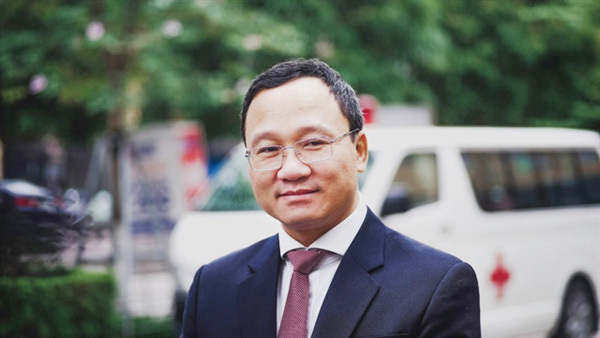 Vice Chairman of the National Traffic Safety Committee Khuat Viet Hung.
Electric cars are a current trend around the world. What do you think?
It is an irreversible trend. Electric cars are a choice for the present and the future. And we can feel it by the way the market responds positively to VinFast's electric scooter products (when the company put the product on sale, there were 4,000 orders after 12 hours). It is not only the credibility of the market with a car manufacturer, but also because people are really looking forward to and excited about electric cars.
In the world as well as in Vietnam, environmental issues are becoming more urgent. Encouraging people to switch to low-emission vehicles such as electric cars, electric motorcycles, electric buses and trains is one of the effective solutions to reduce environmental risks. Some countries have a roadmap to stop use of gasoline cars in the next decade and replace them with electric cars.
So, although I am a bit surprised at the time, I am not surprised when VinFast affirms its vision of becoming a global smart electric car company and announced the development of three electric models. In the near future, the auto market is likely to be more active with the participation of foreign electric models. But regardless of brand, what both manufacturers and users are waiting for is a system of appropriate support policies to gradually form and develop a stable and sustainable market for electric cars in Vietnam. 
What should the supportive policy system be to promote the electric car market?
The Government needs to have a comprehensive programme, including a system of solutions to encourage and support users as well as manufacturers. Specifically, for manufacturers, those are policies to encourage research, development, commercialisation, and supply chain construction (from research and development of battery technology, fuel cells, operating systems to a complete car). For users, there are specific support policies to help them easily own, use and gradually create a habit of driving an electric car. All countries developing electric vehicles must have a very specific and strong market-making strategy and policy. 
Can you give us more details about effective market making policies?
Each country has different market-creating policies, but the US, European nations, Japan, South Korea, China all focus on reducing the cost of owning and using cars. For example, the German government waives the annual sales tax on electric vehicles, and provides direct subsidies to electric vehicle buyers of between 3,000-5,000 euros (US$3,600 - $5,980).
South Korea provides a one-time subsidy of 14 million won ($12,500), tax relief, insurance fees, highway tolls and parking fees for electric vehicle owners. China subsidises 20,000-40,000 yuan (over $3,050 - $6,100) depending on electric vehicles; at the same time, plans and invests in a nationwide network of electricity supply infrastructure. In addition, each locality has its own incentives, for example, the city of Shanghai gives free licence plates to electric cars. 
These are all developed countries that have the conditions to directly support people switching to electric cars. Is this feasible in Vietnam when the budget has to prioritise more urgent goals?
First of all, it is necessary to be aware that the rapid development of electric cars is an opportunity to rise in the global auto industry and an inevitable trend.
Therefore, the policy of the Party and the State to encourage the development of electric cars in particular and environmentally friendly vehicles in general needs to be concretised with clear policies and legal provisions, transparency, so that both users and manufacturers can be assured of the issue.
Next, it is difficult to ask the Government of Vietnam to provide direct subsidies to buyers of electric cars like the aforementioned countries in limited budget conditions. But it's entirely feasible for the Government to support part of the cost of vehicle ownership for people, for example, a partial or full reduction of registration fee, special consumption tax, or partial or full reduction of road user fees.
For manufacturers and businesses, the Government may consider reducing import tax on electric vehicle components, supporting related infrastructure such as land allocation, land use tax exemption or reduction for automobile factories or ancillary products as well as charging station systems. Of course, these market-making policies are only for a certain period, maybe 10 years. 
Will such policies be enough to bring about the change?
The goal is that the subsidy policies for a certain product or service of the Government would create a universal cultural value in the whole society for that product or service. Therefore, policies will be continuously observed, evaluated and adjusted. But I believe that after a period of support, the market size will be large enough, the culture of using electric vehicles will form and have enough momentum to develop itself.
Of course, to create the habits of users, the issue also depends on the ability of technology, services, and convenience of electric vehicles to meet the wishes of people. Therefore, apart from creating conditions for the electric car industry, we need to create open directions to other related supporting industries, such as battery production, to shorten technology development time for green means. 
Where should we begin?
In my opinion, the Government needs to set a clear goal, for example, by 2025 or 2030, how many per cent of cars in the market are electric cars; how emissions reductions and environmental goals should be achieved; determine which agencies and individuals are responsible for promulgating, guiding, implementing and monitoring the implementation of market-making policies, etc.
From these goals, the Government needs to calculate in detail the problem of financial, economic and environmental benefits that electric cars bring when replacing fossil fuel-powered cars. Then it balances the total financial resources and the specific conditions that the government and local authorities can support, in a certain time to concretise into legal, transparent documents. 
Of course, change does not come overnight, but we have a partial advantage when there is a generation of young people exposed to the culture of electric vehicles very early, from electric bicycles to electric motorcycles. That is the generation of the green future. And our job is to prepare that future generation, now.  
VNS 

On March 24, Vinfast made headlines after releasing its statement about receiving orders for its first electric car model VF e34 for VND690 million (about $32,000), to be delivered in the third quarter of 2021. 

Only when fast-charging batteries along with a nationwide system of charging stations will electric cars become popular in Vietnam.