About 70 per cent of synthetic drug addicts showed symptoms of mental disorders, could lose control and commit serious crimes including murder without any motive, a recent conference on drug addiction rehabilitation heard.
1,000 drug addicts to be treated with Buprenorphine
Drug addiction drives youngsters to commit crimes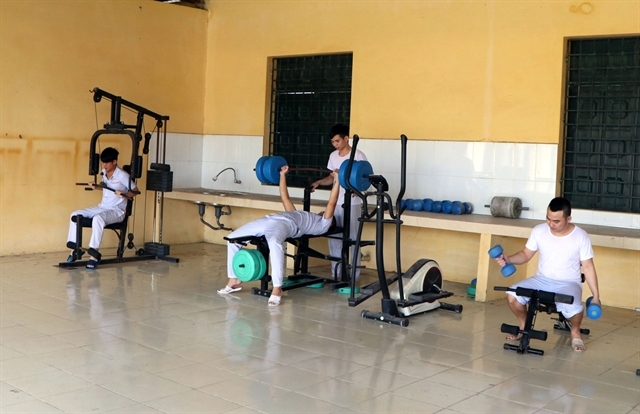 Drug addicts at a rehabilitation centre in northern Hai Duong Province exercise to improve their health and help them relax. Psychological treatment is an effective method for drug rehabilitation. VNA/VNS Photo Hien Anh
New types of drugs left severely painful consequences on addicts' mental health, said Le Trung Tuan, chairman of the management council at the Institute of Psychological Studies and Support to Drug Users (PSD).
Tuan said besides rehabilitation medicines, psychological treatment had proven its worth. The institute had sent drug addicts suffering from mental disorders to specialist hospitals before welcoming them back to PSD for further treatment.
According to Nguyen Xuan Lap, head of Social Evil Prevention Department under the Ministry of Labour, Invalids and Social Affairs, more and more people were taking various types of drugs at the same time.
The number of synthetic drug users accounts for 70-75 per cent of the total number of drug addicts nationwide. In the southern region, the number makes up for 90-95 per cent.
According to the Ministry of Health, high doses of synthetic drugs pose serious risks to addicts, including death.
Drug rehabilitation at home proved less efficient because families did not report addiction or co-operate with local authorities.
"Drug rehabilitation depends largely on the efforts of addicts. Families play a core part in this process. During drug rehabilitation at PSD, rehabilitation experts share with relatives of addicts in an effort to rebuild family relationships which have been broken due to drugs," Tuan from PSD said.
Effective models
In the context of more and more young people taking various types of drugs, drug rehabilitation required updated and advanced methods, Nguyen Xuan Lap said.
The department had learned from other countries and international organisations. The Ministry of Labour, Invalids and Social Affairs planned to pilot local drug rehabilitation models, for example, using traditional medicines and legal consultations with the community.
Legal consultation has been selected as one of the drug rehabilitation methods by the Centre for Supporting Community Development Initiatives (SCDI).
Police officers, consultants and legal executive agencies were working together to help addicts access healthcare, social and legal services. The model helped reduce the chances of re-addiction and crime as well as reduce HIV infection risks among addicts, Nguyen Hoai Huong, SCDI deputy director, said.
VNS