Winter means biting cold and sometimes frost for students in the northern mountainous province of Lao Cai.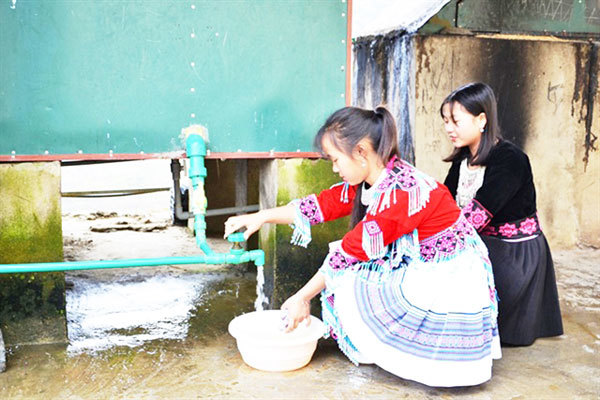 Ethnic minority students at Bat Xat District's secondary and high school use warm water from Que's water heating system.
Understanding the hardships of these students, Vu Xuan Que, principal of Bat Xat Boarding Secondary and High School, and his colleagues have invented a large-capacity cold water heating system for their students.
Born and raised in the northern province of Thai Binh, Que was assigned to work in the education sector of Quang Ninh Province after graduating from Thai Nguyen Pedagogic University.
After a couple of years, he moved to Lao Cai to work as a teacher at Bat Xat Secondary and High Boarding School.
Que and his students have been experienced many frosty winters over the years.
The students suffered more because there was no hot water system in the boarding school.
"After class in the afternoon, if they wanted to have hot water for bathing, they had to boil water with a wood stove with a very limited amount of water," Que said.
"In the early morning, they did not have hot water for washing their teeth and faces".
He saw students who did not have enough warm clothes to wear and had to make do with icy cold water in chilling winter, so Que thought he had to do something for them.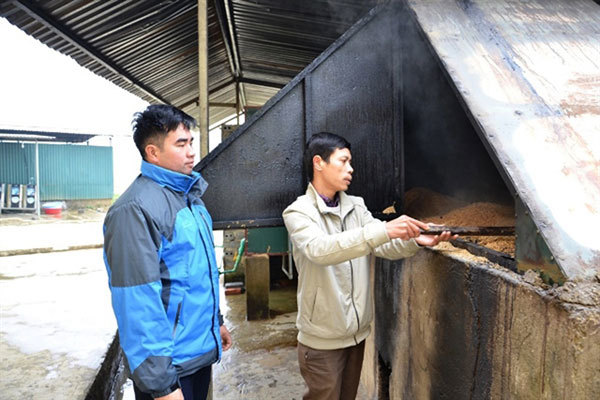 Principal Vu Xuan Que (right) introduces the water heating system. — VNA/VNS Photos Quoc Khanh
A former physics teacher and an entrant of many science and technology contests, five years ago Que researched using the excess heat when cooking as a hot and cold kettle according to the convection principle.
Unfortunately, the kettle wasn't very effective and generated very little hot water.
In addition, students had to spend time boiling water when they could have been at school or doing homework.
Then, a childhood memory of helping his parents cook pig feed came to him.
"I remembered that my parents asked me to use a small amount of rice husk in the stove overnight. A 30 or 50 litre pot of pig feed was not only boiling but also well cooked," he recalled.
"I decided to use that to make hot water for students," he said.
In 2019, Que started researching a large-capacity hot water heating system with three rice husk stoves with pipes pumping water from water tanks.
The cold water is boiled when it runs through the pipes of the stoves.
The water flow can be adjusted through the pump helping increase or decrease the water temperature using timers.
"The advantage of the system is the heat retention mechanism which helps minimise heat loss when cooking and there is no need to directly watch the heating process and hot water is available for 24 hours," Que said.
Every day, the output of hot water could be reached 5 to 10 cu.m at temperatures of 50-70 degrees Celsius.
The school uses rice husks, firewood and corncobs to boil water, the principal said, saving more than VND500,000 (US$22) of electricity fees per day.
Now, nobody has to go to the forest to collect firewood and boil water and the 300 students of Bat Xat Boarding School can use hot water every day.
Since being put into use, the heating system has helped students in the cold winter.
The hot water supply system was not expensive and simply designed using a heat retention mechanism and available materials for boiling, Que said.
About VND20-25 million (US$900-1,100) was needed to build a water-generating stoves system, he added.  VNS

Below zero-degree Celsius has caused snow and ice in many places of the Northern region as of January 9.

At the foot of Ra Nhua Mountain in the central province of Quang Ngai's Son Tay District, there is a school which is as clean, green and beautiful as those in the delta.