Every day, pre-school teacher Le Thi Loan, gets up early, cleans her classroom and arranges the tables and chairs. She then tends to the flowers in the garden and welcomes the students.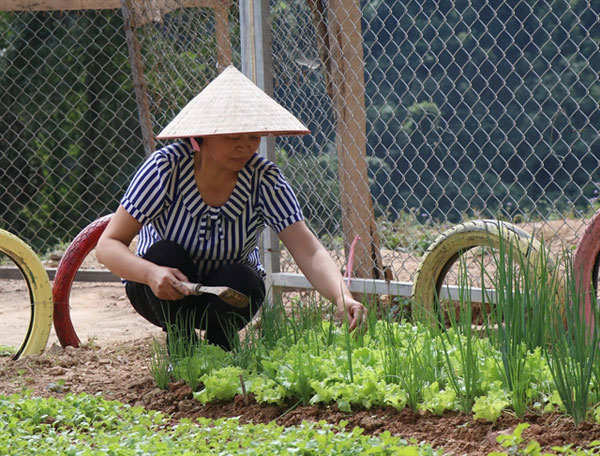 Le Thi Loan plants vegetable to ensure source of clean vegetables serving daily meals for the children. — VNA/VNS Photos Xuan Tien
Loan washes her own and the students' clothes and tends to the vegetables in the garden while they take a nap at noon. She has been doing this job for more than 20 years in Huoi Moi Village, Dien Bien District, northern mountainous Dien Bien Province.
The tenacious teacher has overcome challenges to provide education for children in the northern mountainous province.
Loan said she seldom took a nap because she was afraid children would wake up and go to the forest or swim in rivers.
Every Friday afternoon, she drives her motorbike on a rocky road to return home which is 60km from the village. On Sunday afternoon, she returns to school, bringing food for herself and the students for a week.
Loan also plants vegetable to ensure a source of clean vegetables for the children.
When asked why she was so dedicated, Loan said: "I consider them as my children so I want to share their difficulties."
Seeing her students grow up has inspired her love and passion for the job.
She said hoped that in the future the students could pursue higher education to gain knowledge and escape the poverty their parents and grandparents have suffered.
Loan said there were positive changes among students of the Cong ethnic group here.
"Children are good, obedient to teachers, parents, grandparents. They can speak Vietnamese and are no longer shy in front of strangers," she said.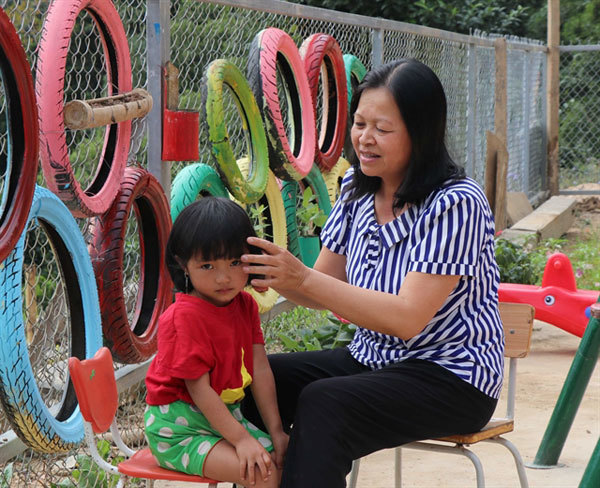 Le Thi Loan combs her student's hair.
Loan said Huoi Moi Village - the poorest village in the locality - has 31 households with a population of 150 residents. Of these, 16 households are Cong ethnic people who live in houses made of wood and corrugated roofs clinging to the mountainside near the Vietnam-Laos border.
Students at Huoi Moi pre-school are evaluated by growth charts. Their daily meals are always guaranteed with quality, hygiene, and balance nutrition, she said, adding that educational activities are set up in accordance with the local children's needs.
Loan said she still remembered when she took her first steps to the school with classrooms in poor condition without electricity and clean water.
The classrooms were made of wood and couldn't prevent wind from blowing through.
Besides Huoi Moi School, five other schools of Pa Thom Commune were in similar conditions with a lack of electricity and clean water. It's hard for people to travel due to the rough terrain.
The language barrier between the teachers and students was also a problem.
Fortunately, things have improved because concrete houses were built for the Huoi Moi School in July this year, Loan said.
For her, the saddest time of the day is when the students are picked up by their parents. The school is empty and she is alone in the kitchen preparing dinner.
"I have cried many times. I feel homesick when seeing families near the school gathering for dinner," she said.
It was in 2006 that Loan suffered spondylolisthesis (a disease that causes one of the lower vertebrae to slip forward onto the bone directly beneath it) and faced a surgery. Therefore, the long distance of nearly 60km from home to school every week is a challenge for her, especially when it rains as the road can get slippery and muddy.
However, Loan always tries her best to complete her work.
Lo Van Sam, head of Huoi Moi Village said thanks to the love and care of teacher Loan, Cong ethnic children can speak Vietnamese fluently and are obedient to their parents and grandparents.
"Local residents are very happy and feel secure about their children' future," he said.
Vu Thi Nho, principal of Pa Thom pre-school, said despite facing difficulties due to the shortage of facilities, all teachers strived to fulfil their duties.
"We have encouraged each other to try hard to provide students with knowledge, life skills and help develop their character.
"We will have the responsibility to follow the footsteps, deserving the sacrifices and dedication of the previous generations," Nho said.  VNS
Xuan Tien & Xuan Tu

Many students in Din Chin – one of the poorest, most remote communes in Muong Khuong District, consider teacher Lo Thi Lan a second mother thanks to her dedication.

A deep desire to help poor ethnic Bahnar children motivates Chhỡi, a teacher in Blen Village, Lo Pang Commune in the Central Highlands' Gia Lai Province, to devote himself to education.