They all shared two things in common: they suffered from a disability and were members of a free class taught by Le Thi Hoa.
Disabled teacher gives gift of knowledge
Disabled teacher sows confidence and hope to other disabled
Aikido instructor connects disabled children with life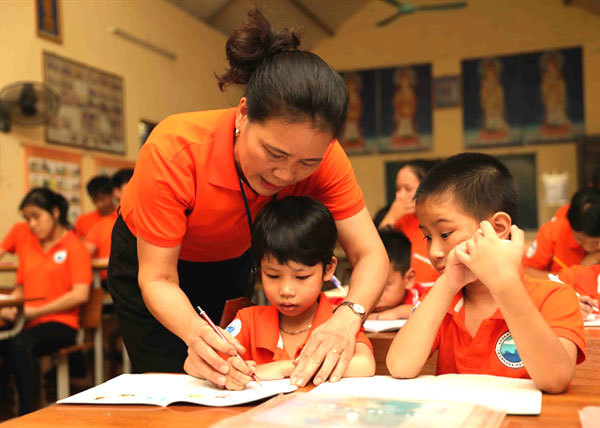 Teacher Le Thi Hoa and her students at her free class for children with special needs. VNA/VNS Photo Thanh Tung
It was a Sunday morning at Huong Lan Pagoda in Dong Son Commune, about 25km to the southwest of Hanoi. The students at the special weekend class sat in a small converted classroom in the pagoda. It was usually used as a lobby but the head monk decided it would be a a comfortable place for children to study.
46-year-old teacher Hoa was slowly moving her stick word by word in a rhythm so the students could recite the Buddhist sutra to help them learn how to read.
Most of the students in Hoa's class had been rejected by other schools and their families were too poor to afford a place at schools for children with special needs. Hoa's class was their last hope of giving their children a chance how to learn to read and write.
"Both of my parents were orphans. My mother couldn't read but they struggled hard to raise my sister and me as well as send us to school. My dad told me several times that he hoped we could do something good for society, especially for vulnerable and disadvantaged people," Hoa said.
"It has been 17 years with them (the students). Some suffer serious intellectual issues while others have physical impairments who can't blend in at ordinary schools."
Hoa is the headteacher at Dong Son Primary School in Dong Son Commune.
She opened the class in 2002 in her own home in Quyet Ha Village, and 14 children with disabilities in the neighborhood enrolled. Over the next five years, more and more families from other areas started hearing about the special class.
Her small house was no longer able to accommodate the children, so in September 2007 she decided to ask Monk Thich Dam Tien if it would be okay her to use the pagoda every Saturday and Sunday. The abbot was more than happy to lend a hand to the dedicated teacher and her hardworking students.
Since then the number of students has increased rapidly, reaching 63 this autumn. A few retired teachers have also decided to give a helping hand, which has come as welcome support for Hoa.
"There were times I thought I'd have to close the class, and the parents were really upset. The students also got sick from time to time and had to visit the hospital. Books were scarce while there was no stationery," the teacher said.
"I cried, the students cried, but thanks to support from the monks and volunteers, especially Monk Tien, I found the motivation to keep the class open."
Sitting on her lap was 12-year-old Nguyen Ngoc Khanh who looks just like a 3-year-old and cannot speak.
Khanh talks to Hoa through his eyes and meaningless sounds, but the two understood each other perfectly.
Khanh is not from the same neighbourhood as Hoa. Khanh's mother, Nguyen Thi Lan, said she had heard people talking about the special class since her son was a baby.
Lan wanted to send him to the class, but he was not old enough.
"It seemed to take forever for me. I didn't think my son would be able to learn how to read and write because of his condition. I just wanted him to meet other children like him to make him happy," she said.
Some students lived far away but never missed a lesson, travelling more than 20km to get there.
"Some people say I'm strange. Even some of my relatives didn't want me to open the class," Hoa said.
"Every time I told myself to keep going. Time will show the people who doubt me."
"It's enough for me to see the kids improving every week, every month, every year. Any steps forward taken by children with disabilities are priceless, which are the hopes and prayers of their families and, I believe, the whole of society."
Hoa was honoured as one of the 10 Outstanding Capital Citizens 2019 at a ceremony in Hanoi on Saturday for her dedication, love and fortitude. VNS