At the foot of Ra Nhua Mountain in the central province of Quang Ngai's Son Tay District, there is a school which is as clean, green and beautiful as those in the delta.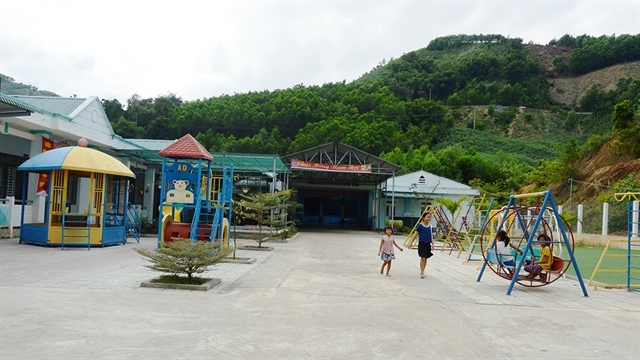 Sơn Tân Kindergarten in the central province of Quảng Ngãi's Sơn Tây District. The kindergarten is the only one in Sơn Tây District to have met national standards in a remote mountainous area. — Photo tuoitre.vn
Sơn Tân Kindergarten is the only one in Sơn Tây District to meet national standards in a remote mountainous area where poverty and illiteracy still prevail.
Nguyễn Thị Hồng Nguyên, 39, principal of the kindergarten, said if Ca Dong ethnic minority children had a better education, their living standards would be improved.
Bùi Thế Giới, head of the district's Education and Training sub-department, said education was still a far-reaching target for the district.
Building schools and encouraging more children to attend classes were still considered the teachers' responsibility, he said.
"Nguyên has made a great effort to build Sơn Tân Kindergarten as the first school that meet national standards," Giới said.
Nguyên told Tuổi Trẻ (Youth) newspaper that she took the position as principal six years ago when there were only two dilapidated classrooms.
At that time, the number of children was falling day by day, she recalled.
Nguyên decided that a boarding school was the only way to prevent students from dropping out.
It made her toss and turn at night. The question of whether students' parents agreed with her idea and how to mobilise capital for the building of the new school haunted Nguyên. It was very difficult to deal with but she had no choice.
She asked the parents to use the VNĐ140,000 (US$6) subsidised by the State to buy food for students, but most of them disagreed.
Nguyên understood the reason. Ninety-five per cent of the population come from the Ca Dong ethnic minority group who like drinking wine every day and need support from the State between crops.
Worse still, some even claimed that Nguyên was trying to cheat them out of the money.
Only a few parents agreed, but it was enough for her to open a semi-boarding school.
When she felt desperate and thought that her plan was beyond reach, Nguyên received encouragement from her husband.
"For the children, we should try our best," he said.
But then Nguyên had an idea to invite the parents of five students who disagreed with her proposal to help wash dishes at the school so they could see what the children ate, and the results were unexpected.
It ended up convincing the parents, Nguyên said, adding that she was lucky to have support from her staff and husband.
Seeing their determination, the People's Committee of Sơn Tân Commune decided to donate 150kg of rice.
Nguyên has overcome numerous challenges including convincing local residents to donate land and labour to build a new school.
Trần Thị Trang, a preschool teacher in Tà Đô Village, said education in the commune had changed dramatically over the past few years.
Integrated classrooms no longer existed.  
Children started to enjoy studying with good infrastructure and no longer worried their nights would be interrupted by wandering cattle.
Due to the shortage of teachers and classrooms in the old days, she said kindergarten children often had to sit alongside far older children.
Nguyên's happiness multiplied after she gained the trust of local parents who volunteered to do the gardening.
"Thanks to their support, the school has a sufficient supply of clean vegetables," she said.
Nguyên has also succeeded in persuading the provincial Children's Protection Fund to install a water purifying system at the school.
Ca Dong ethnic minority people now consider Nguyên part of their families thanks to her dedication to the job. She has convinced students' parents to work hard and look after their children. Nguyên also advised them to grow vegetables at home.
Nguyên is the only teacher from Quảng Nam Province to receive a merit of certificate from Minister of Education and Training Phùng Xuân Nhạ for her outstanding contributions.
As Giới said: "I am grateful and proud of Nguyên and her colleagues at Sơn Tân Kindergarten. They are playing a leading role in local education in remote areas." — VNS

Song Tu Tay Primary School in Truong Sa Archipelago off the coast of Khanh Hoa Province is an educational institution like no other in Vietnam.

Teachers at a school in Gia Lai Province's mountainous district of Mang Yang are facing lots of difficulties in their life and work.