Saigon Children's Charity and Vietnam Autism Network organised the Teachers of Children with Autism Appreciation Day in HCM City on Saturday where children on the autism spectrum were taught to make appreciation cards for their teachers.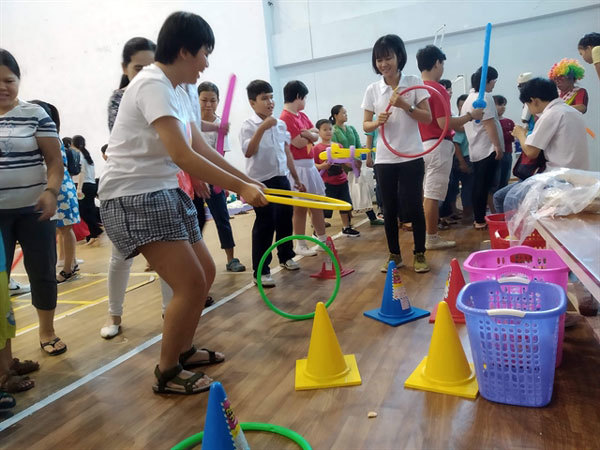 Children with autism play games at the Teachers of Children with Autism Appreciation Day held in HCM City on Saturday. — Photo courtesy of the saigonchildren
They also sang and danced to offer their wishes to their teachers, played games such as rocking animals, throwing hoops, paper folding, beading, building blocks, hopscotch, and jumping.
The event was aimed at building a safe environment for children with autism to play and to connect with others.
Damien Roberts, executive director of Saigonchildren, said: "It is an honour to celebrate the teachers of children with autism today. With their hard work and enthusiasm, children with autism can learn to communicate and develop, many can join mainstream schools and go on to live happy and independent lives."
Around 300 people with autism aged two to 23 from many provinces had an opportunity to gather and discover themselves more with specially designed education.
The event was also attended by 200 teachers and parents and 50 volunteers.
It was held as part of Saigonchildren's Special Needs Education Programme instituted in 2010 to provide advanced training and support networks for parents and teachers of children with autism, enabling the children to receive quality education with specialised training. VNS

An art exhibition by children with autism opened in Hanoi on Wednesday.

The Vinmec Research Institute of Stem Cell and Gene Technology reported six new mutated genes found in autistic children as part of a study on identifying gene mutations in children with autism in Vietnam.

Police in Bac Ninh Province are investigating a local training centre accused of mistreating children with autism.